Networks 4 Actions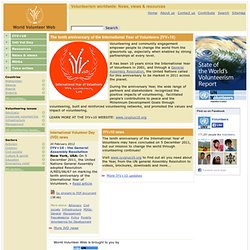 Volunteering and community engagement empower people to change the world from the grassroots up, especially when enabled by strong partnerships at every level. It has been 10 years since the International Year of Volunteers in 2001, and through a General Assembly Resolution, the United Nations called for this anniversary to be marked in 2011 across the planet. During the anniversary Year, the wide range of partners and stakeholders recognized the positive impacts of volunteering, facilitated people's contributions to peace and the Millennium Development Goals through volunteering, built and reinforced volunteering networks, and promoted the values and impact of volunteering. LEARN MORE AT THE IYV+10 WEBSITE: www.iyvplus10.org
Orion Grassroots Network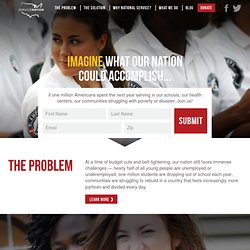 ServiceNation : A campaign to inspire a new era of voluntary citizen service in America
At a time of budget cuts and belt-tightening, our nation still faces immense challenges — nearly half of all young people are unemployed or underemployed, one million students are dropping out of school each year, communities are struggling to rebuild in a country that feels increasingly more partisan and divided every day. "It made me realize that while a large part of being a College Possible coach is about raising students' ACT scores and sending off applications, it is also about making each student feel that he or she, as an individual, is worth an education, and is worth 4 years of college." —Kate Nesbit, AmeriCorps Member, College Possible. Read Kate's story.
Welcome, . You are now logged in. Create The Good connects you with volunteer opportunities to share your life experiences, skills and passions in your community. Learn More Cell Phones for Soldiers turns old cell phones into prepaid calling cards for U.S. troops stationed overseas. When you donate your old phone, it goes to ReCellular, which then pays Cell Phones for Soldiers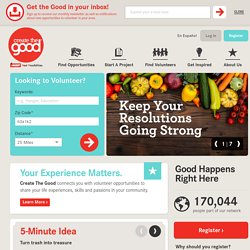 Create The Good: Community Service, Volunteering & Charity Work - AARP | Create The Good
Global Youth Action Network
Mobilizing Youth
HopeMob :: Crowdfunding with Compassion :: The Only Fee-Free Fundraising Platform
CommonDeeds - Home
Your business relies on field execution. Use our platform with your people, or our fully staffed solutions. Mobile tasks for on-the-ground intelligence. Highly flexible features without the hassle.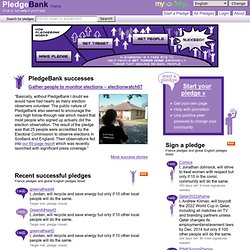 PledgeBank successes Organise aid trip to New Orleans – airfarespledge "After seeing the news about Hurricane Katrina, which had some pretty graphic pictures showing the damage, I thought of how I could help....Being a fan of Jazz music and knowing a lot about New Orleans, Harry Connick Jr was the first person I thought of, I found connick.com to see if they had a donation or fund raiser link.
Be The Change, Inc is a nonprofit organization, recognized as tax-exempt by the IRS under Section 501(c)(3) of the Internal Revenue Code. Headquartered in Boston, Massachusetts, Be the Change creates and manages national issue-based campaigns, such as ServiceNation, Opportunity Nation, and Got Your 6, driven by broad cross-sector coalitions that inspire culture change and accelerate public policy development to bring about positive changes in our society. ServiceNation ServiceNation aims to increase service opportunities and elevate service as a core ideal and problem-solving strategy in our society. Opportunity Nation Opportunity Nation seeks to enhance opportunity and economic mobility in America.
Be The Change Inc.