Naomi Klein
Naomi Klein & Joseph Stiglitz
Bio Hernando de Soto Hernando de Soto is President of the Institute for Liberty and Democracy, headquartered in Lima, Peru and considered by The Economist to be one of the two most important think tanks in the world. Time and Forbes have chosen him as one of the leading innovators in the world, and more than 20,000 readers of Prospect and Foreign Policy ranked him as one of the world's top 13 public intellectuals.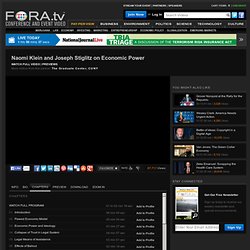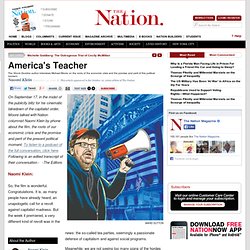 America's Teacher
About the Author Naomi Klein Naomi Klein is an award-winning journalist, syndicated columnist, fellow at The Nation Institute and author of the... Also by the Author Flood insurance: build an ark Cuando escribí La doctrina del shock estaba documentando crímenes del pasado.
NAOMI KLEIN'S 1999 book " No Logo " brought attention to a groundswell of activism that culminated at the protest against the World Trade Organization in Seattle that year. Now, Klein — who also wrote the best-selling " The Shock Doctrine " — is re-releasing "No Logo" with a new introduction which focuses on how President Obama has crafted his political message into a powerful brand.
Corporate Greed In the Crosshairs: Naomi Klein, 'No Logo' | Washington Post Express
Je viens de tomber sur ce bout du discours de Naomi Klein qu'elle a fait à Wall street dans le mouvement Occupy Wall street Nous savons tous, ou du moins nous sentons que le monde est à l'envers : nous agissons comme s'il n'y avait pas de limites à ce qui, en réalité, n'est pas renouvelable – les combustibles fossiles et l'espace atmosphérique pour absorber leurs émissions. Et nous agissons comme s'il y avait des limites strictes et inflexibles à ce qui, en réalité, est abondant – les ressources financières pour construire la société dont nous avons besoin. La tâche de notre époque est de renverser cette situation et de contester cette pénurie artificielle.
Naomi Klein nous parle de rareté et d'abondance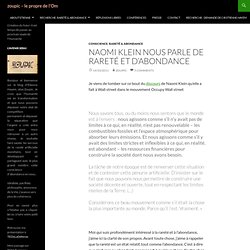 Democracy Now!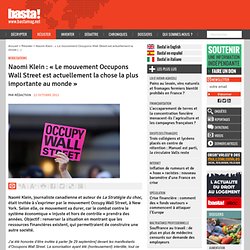 J'ai été honorée d'être invitée à parler [le 29 septembre] devant les manifestants d'Occupons Wall Street. La sonorisation ayant été (honteusement) interdite, tout ce que je disais devait être répété par des centaines de personnes, pour que tous entendent (un système de « microphone humain »). Ce que j'ai dit sur la place de la Liberté a donc été très court. Voici la version longue de ce discours [publiée initialement en anglais dans Occupy Wall Street Journal]. Je vous aime.
NAOMI KLEIN ET LA CRISE FINANCIÈRE - L'INTÉGRAL
Nous avons pu rencontrer Naomi Klein, cette journaliste et écrivaine canadienne, auteure du livre "No Logo", et plus récemment de " la stratégie du choc " (2007, Actes Sud). Alors que la crise financière s'installe dans le monde entier, il nous a semblé utile d'entendre cette spécialiste du "capitalisme du désastre". " La stratégie du choc" à l'œuvre pendant la crise financière "La règle du néolibéralisme n'est pas le libre-marché, la règle c'est l'intérêt des multinationales" Dans cette première partie, Naomi Klein nous rappelle la stratégie de l'idéologie "néo-libérale": profiter des crises pour installer un peu plus le système du "laissez-faire".
Obama's Big Silence: The Race Question
Published in The Guardian Americans began the summer still celebrating the dawn of a "post-racial" era. They are ending it under no such illusion. The summer of 2009 was all about race, beginning with Republican claims that Sonia Sotomayor, Barack Obama's nominee to the US Supreme Court, was "racist" against whites. Then, just as that scandal was dying down, up popped "the Gates controversy", the furore over the president's response to the arrest of African American academic Henry Louis Gates Jr in his own home. Obama's remark that the police had acted "stupidly" was evidence, according to massively popular Fox News host Glenn Beck, that the president "has a deep-seated hatred for white people".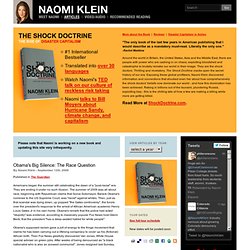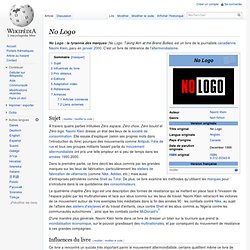 No Logo
Un article de Wikipédia, l'encyclopédie libre. No Logo : la tyrannie des marques ( No Logo: Taking Aim at the Brand Bullies ) est un livre de la journaliste canadienne Naomi Klein , paru en janvier 2000 . C'est un livre de référence de l' altermondialisme . Sujet [ modifier ]
En résumé… " Aujourd'hui, le village est "planétaire", l'adolescent "mondial" est la société de consommation dominée par les marques. Les espaces publicitaires traditionnels qu'elles se sont de tout temps montré promptes à coloniser – panneaux d'affichage, télévision, cinéma, presse écrite – sont désormais devenus trop restreints pour des logos frappés d'expansionnisme galopant. En plantant leurs drapeaux sur des territoires jusqu'à présent vierges de toute publicité, en substituant au simple objet de consommation une image capable de le faire accéder à la dimension de mythe, les multinationales ne se sont pas contentées de bouleverser les mentalités et le monde du travail, elles ont modifié l'économie de nombreux pays. Dans cette course au profit, beaucoup sont en effet passés maîtres dans l'art de bafouer les droits de l'homme : l'esclavage moderne existe dans les zones franches industrielles ou dans certains Etats du Tiers-Monde, véritables paradis fiscaux pour sociétés capitalistes.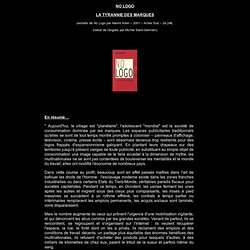 No Logo - La tyrannie des marques
Naomi Klein
To understand the meaning of the U.S. election results, it is worth looking back to the moment when everything changed for the Obama campaign. It was, without question, the moment when the economic crisis hit Wall Street. Up to that point, things weren't looking all that good for Barack Obama. The Democratic National Convention barely delivered a bump, while the appointment of Sarah Palin seemed to have shifted the momentum decisively over to John McCain.
Naomi Klein: Real Change Depends on Stopping the Bailout Profite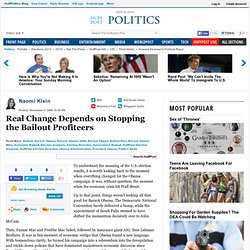 L'auteur de No Logo refait parler d'elle avec, cette fois, un documentaire : The Take. Le film, tourné en Argentine, se penche sur le phenomène des entreprises autogérées par les salariés . Auteur en 1999 du best-seller international No logo : la tyrannie des marques , Naomi Klein revient sur le devant de la scène avec, cette fois-ci, un film : " The Take ". Au travers de ce documentaire, qui sortira en salles le 27 avril prochain, la journaliste canadienne se penche sur une conséquence méconnue de la crise économique et financière dont a été victime l'Argentine en 2001.
"Suivre la naissance d'un nouveau modèle économique"
N.Klein: la COP-15 au détecteur de mensonges
En vedette pour l'ouverture du Klimaforum, Naomi Klein. La journaliste canadienne, auteure en 2007 de "The shock doctrine - La montée du capitalisme du désastre", n'a pas mâché ses mots, devant le "contre-sommet" de Copenhague, contre la responsabilité du capitalisme dans la crise climatique. Et, si elle ne croit pas à la conclusion d'un accord efficace, elle appelle les citoyens à jouer le rôle de "détecteur de mensonges". La suite de cet article est accessible sur abonnement. Abonnez-vous, abonnez vos ami-es. Abonnement : 5 euros/mois ou 40 euros/an.
Published in The Phoenix Naomi Klein, black-clad and sharp-tongued mistress of the global anti-corporate left, friend to Occupiers and scourge of oil barons, stood outside a dressing room backstage at Boston's Orpheum Theatre one night last month, a clear-eyed baby boy on her hip. "I'm really trying not to play the Earth Mother card," Klein told me over the phone the week before, as she talked about bringing Toma, her first child, into the world. But she didn't need to worry.
Un article de Wikipédia, l'encyclopédie libre. Pour les articles homonymes, voir Klein . Naomi Klein Naomi Klein (née le 5 mai 1970 à Montréal ) est une journaliste canadienne , auteur , cinéaste et militante altermondialiste . Biographie [ modifier ]
Bio by The Nation
Flood insurance: build an ark Subscribers Only Cuando escribí La doctrina del shock estaba documentando crímenes del pasado. La buena noticia es que se trata de un crimen en desarrollo: todavía podemos detenerlo. Asegurémosnos que esta vez, por fin, ganen los buenos. The recovery could be an opportunity to realign our relationship with the natural world.
Naomi Klein
Naomi Klein on Twitter
Naomi Klein La Stratégie Du Choc 1/5
Shock Doctrine and the new new left
La stratégie du choc | Y'a vraiment rien là ?!