DeviantArt
Janaschi on deviantART. Artgerm on deviantART. As07 on deviantART. OmeN2501 on deviantART. The_school_of_postmodernism_by_vittorio_pelosi_by_intentism-d50393y.jpg (Image JPEG, 900x548 pixels) Guitfiddle (JW Bubb) on deviantART. RalphHorsley on deviantART. "ralph horsley" Metallic_Dragons_Aerial_Combat_by_RalphHorsley.jpg (Image JPEG, 3004x2634 pixels) - Redimensionnée (30. DeviantART: where ART meets application!
Site:deviantart.com. Nobody7's deviantART favourites. Inked Magazine Ad by `lithiumpicnic on deviantART. Dark flames by =UniqueNudes on deviantART. Budgie on deviantART. Kerembeyit on deviantART. J-Scott-Campbell on deviantART. ArtOfWarStudios on deviantART. Eat01234 on deviantART. Justravelin on deviantART. Oracul by ~PsySun on deviantART. Love1008 on deviantART. Hippie_Van_by_hollywoodjazz.jpg (Image JPEG, 800x532 pixels) Cristina 1 by ~MissAminaMunster on deviantART. Orbit___Redux_by_ANTIFAN_REAL.jpg (Image JPEG, 1600x747 pixels) - Redimensionnée (90. Devi by `cosfrog on deviantART. Vibrant Youth by `cosfrog on deviantART. DeviantART muro. BenHeine on deviantART.
50 Most Popular Photographs on Deviantart. Written by Jacques van Heerden On Thursday, June 2nd, 2011 with 14 Comments so far in Inspiration, Photography Everyone has knows or has heard of Deviantart.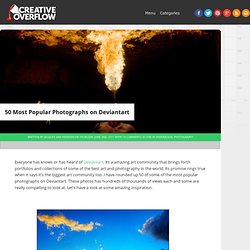 Its a amazing art community that brings forth portfolios and collections of some of the best art and photography in the world. 25 Ultra-Creative Packaging Designs From DeviantArt. Web designers can (and should) draw inspiration from places other than web design, so today's article is going to showcase 25 creative packaging designs that I found on Deviantart.com For anyone who hasn't browsed through deviant art yet, you are missing out on a lot of creative inspiration. yes, the css galleries out there are good for inspiration, but I find myself searching sites like behance and deviant art much more lately, because of the diversity of designs and the fact that they don't have to be "approved" before you see them.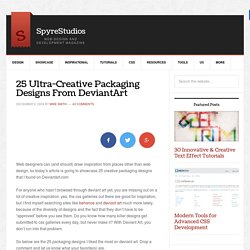 Do you know how many killer designs get submitted to css galleries every day, but never make it? Psy mandala 10 by ~cl502 on deviantART. Maronski on deviantART. Cosfrog on deviantART. Sittingducky on deviantART. Raynkazuya on deviantART. Dogfight_by_OmeN2501.jpg (Image JPEG, 1600x957 pixels) - Redimensionnée (80. Sergey-Lesiuk on deviantART.
---