CoLab & CoIntel Tool Box
Serendipity-Sérendipité. IFTTT / Put the internet to work for you. Co Intel 2.0 pyramid. Collaboration toolbox. Ideas banks...
The Contribution Revolution / FrontPage. Here are ways this site can help you: For an introduction to contribution sysrems, listen to the 14 minute podcast interview with Scott Cook, or start with the wikified beginning of the article this site has grown fromFor inspiration and ideas, check out the UCS taxonomy chart with examplesFor how-to and guidance on how to create successful user contribution systems, check out Getting your company started with UCS Want to help out on this wiki?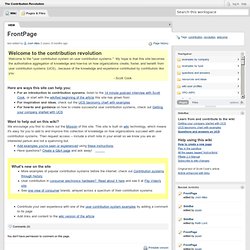 We encourage you first to check out the Mission of this site. This site is built on wiki technology, which means it's easy for you to add to and improve this collection of knowledge on how organizations succeed with user contribution systems. The Contribution Revolution / UCS taxonomy chart with examples. [View a picture of the original chart] User contribution systems aggregate and leverage various types of user input in ways that are valuable to others.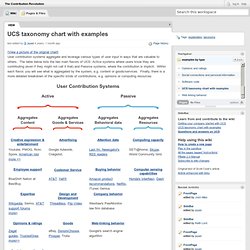 The table below lists the two main flavors of UCS: Active systems where users know they are contributing (even if they might not call it that) and Passive systems, where the contribution is implicit.
Intelligence Forms. Trends Watch. De la simplicité. Pourquoi ce billet?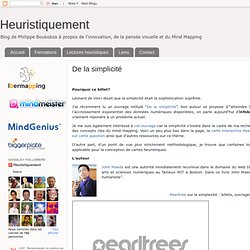 Léonard de Vinci disait que la simplicité était la sophistication suprême. J'ai récemment lu un ouvrage intitulé "De la simplicité". Son auteur se propose d'"atteindre la simplicité à l'ère numérique". Face à l'accroissement exponentiel des données numériques disponibles, on parle aujourd'hui d'infobésité, ce type de réflexion me semble vraiment répondre à un problème actuel.
Je me suis également intéressé à cet ouvrage car la simplicité s'insère dans le cadre de ma recherche sur la simplexité qui me paraît un des concepts clés du mind mapping. Cartes des 10 lois de la simplicité de Maeda.
---
noosquest Sep 29 2011

Creative Thinking & Collaboration Tools & networks..
---