Browser Automation
Spiders & Bots. Orchestrate.io. UBot Studio 5: Build Web Automation and Marketing Software. Most programming languages are difficult and take months, if not years, to master.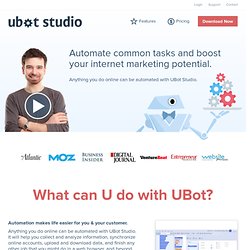 And they can cost thousands of dollars, after you get all the pieces necessary to turn out professional apps. UBot Studio is actually fun to use. It takes the complexity out of the process. There are no extra modules to buy or download, and thousands of our customers are proof that UBot Studio gets the job done and doesn't require previous training in programming to do it. Web automation. Selenium - Web Browser Automation. LinkSidebar. Business Process Automation Software - Automate IT - Network Automation. Mining Data-text-web. Modules pour Firefox. IFTTT / Put the internet to work for you. Automate your Dropbox.
Cloud Business Apps Integration - CloudWork. Tools 4 Networks. LeechBlock. Current Version: 0.6.6 What is LeechBlock?
LeechBlock is a simple productivity tool: an extension for the Firefox web browser designed to block those time-wasting sites that can suck the life out of your working day. (You know: the ones that rhyme with "Blue Cube", "Space Hook", "Sticky Media", "Quitter", and the like.) Outils de publication automatique | SocialCompare - Site communautaire de comparatifs. Comparateur collaboratif S'inscrire Se connecter Se connecter Déconnexion Mon Espace -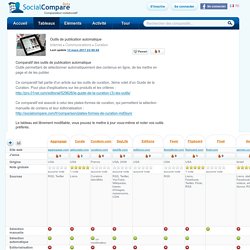 xSpin It ! - L'éditeur de spin polymorphe francophone et sexy. Toolbars-Widgets-Apps-API... App.jbbres.com. NEWBIE - Automating the Web Browsing Experience™ Cue - Know What's Next - for iPhone and web. iMacros for Firefox. iMacros. Wiki imacros. From iMacros This page documents features that are unique to iMacros for Firefox.
For the standard features of the iMacros series, please see the Form Filling, Browser Automation, Data Extraction and Web Testing chapters. Installation. Web Browser Scripting and Web Testing and Web Scraping by iOpus.
Sikuli Script - Home. ClearForest Gnosis. Sociallymap - Qualitative automation tool. Website Monitoring Directory. Website Monitoring. Scripts & bricks. Temboo. Meet Node-RED, an IBM project that fulfills the internet of things' missing link. If you play around with enough connected devices or hang out with enough people thinking about what it means to have 200 connected gizmos in your home, eventually you get to a pretty big elephant in the room: How the heck are you going to connect all this stuff?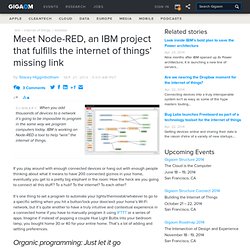 To a hub? To the internet? Node-RED.
---