Browser Automation
Orchestrate, Inc was founded in 2013 by a team that has built, and helped others build, large scale web and mobile apps. We have worked with enterprises and startups alike and watched them struggle to solve the same problem over and over. While working with these companies, we noticed a pattern - to build interactive apps with engaging features, companies needed to run multiple databases. Companies often struggled with the complexity of operating these databases, making it difficult to scale, add new features, or focus precious resources on improving user experience.
Orchestrate.io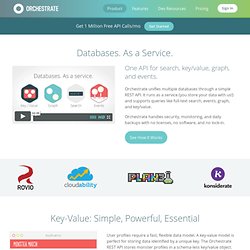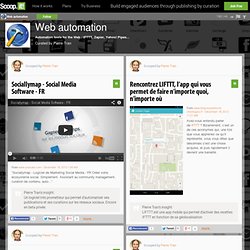 What is YQL? The Yahoo! Query Language is an expressive SQL-like language that lets you query, filter, and join data across Web services. With YQL, apps run faster with fewer lines of code and a smaller network footprint. Yahoo!
Web automation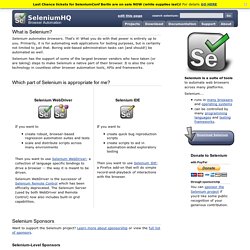 What is Selenium? Selenium automates browsers. That's it! What you do with that power is entirely up to you.
LinkSidebar
LinkSidebar:* Displays all hyperlinks in the current web page, including any hyperlinks inside frames* Displays the total number of hyperlinks in the current webpage It allows you to:* Search the links in the current webpage* Select multiple links to open in tabs or copy locations for all selected links* Test links in the webpage, filtering out unwanted links with quick and easy searches Search Links:Type text into the search box to search the links in the current page.You can enclose a phrase in quotes to find the exact phrase. You can use a minus (-) sign before any word to exclude links containing that word from the results. For example, to find all links to youtube videos except videos of cats, type "youtube -cats" in the search box.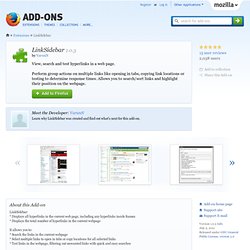 Business Process Automation Software - Automate IT - Network Automation
Current Version: 0.6.6 What is LeechBlock? LeechBlock is a simple productivity tool: an extension for the Firefox web browser designed to block those time-wasting sites that can suck the life out of your working day. (You know: the ones that rhyme with "Blue Cube", "Space Hook", "Sticky Media", "Quitter", and the like.)
LeechBlock
Comparateur collaboratif S'inscrire Se connecter Se connecter Déconnexion Mon Espace -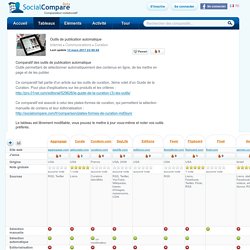 Toolbars-Widgets-Apps-API...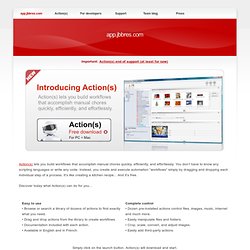 app.jbbres.com
Important: Action(s) end of support (at least for now) Action(s) lets you build workflows that accomplish manual chores quickly, efficiently, and effortlessly. You don't have to know any scripting languages or write any code. Instead, you create and execute automation "workflows" simply by dragging and dropping each individual step of a process.
Are you logging into the same websites and performing the same repetitive tasks? Do you regularly download reports, fill web forms, post Ads, search for information or extract data from the web? Newbie can automate it for you. Download and try out our software for free. Contact us to find out how we can customize Newbie Scripts for you to automate any task you do on a Web browser, save time and make you more productive. If you are looking for a particular solution, check out and view our Case Studies.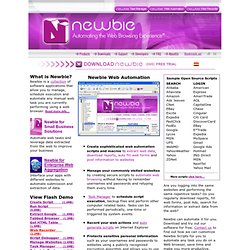 NEWBIE - Automating the Web Browsing Experience™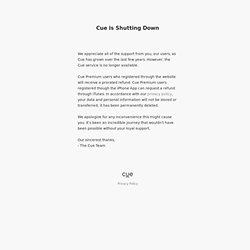 We appreciate all of the support from you, our users, as Cue has grown over the last few years. However, the Cue service is no longer available. Cue Premium users who registered through the website will receive a prorated refund.
Works, barely, and not as expected Rated 1 out of 5 stars by Cyberknight on March 28, 2014 · permalink · translate I had this problem: I needed to check hundreds of entries on a government private secure system for specific information, which might or might not be available, and data-mine it, that is, copy specific records and nothing more, as it would be hellish to filter out the unnecessary data if I had to copy all the displayed information. The system itself stinks, it does not have a fixed Page layout, so a global macro would never work (it's impossible to tell where on the screen a specific button, link or 'clickable' icon will be displayed, so it's necessary to parse each page, looking for that specific element).
iMacros
wiki imacros
From iMacros This page documents features that are unique to iMacros for Firefox. For the standard features of the iMacros series, please see the Form Filling, Browser Automation, Data Extraction and Web Testing chapters. Installation
Web Browser Scripting and Web Testing and Web Scraping by iOpus
ClearForest Gnosis is the cutting edge of real time semantic processing for the web. By evaluating the pages you read – as you read them – Gnosis immediately locates key information such as people, organizations, companies, products and geographies hidden within the text. By simply hovering over any of the identified topics, you can immediately locate relevant news, blog entries, maps, company information and Wikipedia entries. After you install Gnosis and restart Firefox simply navigate to any site that you are interested in – one of the news sites listed below is a great place to start.
ClearForest Gnosis :: Modules pour Firefox
Website Monitoring
Website Monitoring Directory
Meet Node-RED, an IBM project that fulfills the internet of things' missing link
If you play around with enough connected devices or hang out with enough people thinking about what it means to have 200 connected gizmos in your home, eventually you get to a pretty big elephant in the room: How the heck are you going to connect all this stuff? To a hub? To the internet?
Node.js based Built on top of Node.js, taking full advantage of its event-driven, non-blocking IO model. Visual Editor A lightweight, browser-based editor that makes it easy to wire together flows and deploy in a single click. Plugin Nodes A simple API that allows new node types to be created in a few lines of JavaScript/HTML and dropped into the runtime.