Mac
Shortcuts
AppFresh. Apple Updates AppFresh integrates native update checking for Apple software and system updates, so you don't need to run Apple's Software Update separately.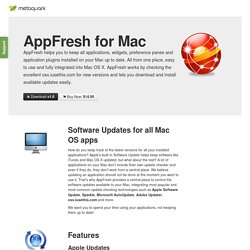 Sparkle Updates By fully supporting RSS based Sparkle updates a great percentage of self updating applications can be updated using AppFresh. Microsoft AutoUpdate. Watch & Manage System Resources with htop for Mac OS X. If you like to keep an eye on system resources and you want to branch out from the GUI Activity Monitor, check out htop for Mac OS X. htop is basically a significantly improved version of top, which lets you monitor system resources, CPU core load, memory use, load averages, and manage running processes.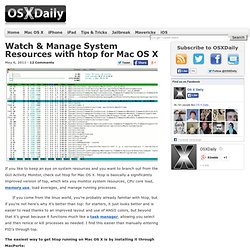 If you come from the linux world, you're probably already familiar with htop, but if you're not here's why it's better than top: for starters, it just looks better and is easier to read thanks to an improved layout and use of ANSII colors, but beyond that it's great because it functions much like a task manager, allowing you select and then renice or kill processes as needed. I find this easier than manually entering PID's through top. Mac OS Terminal Replacement. Support - Search. The Complete Work of Charles Darwin. I use this mac os x software: software for the osx population. Mac Freeware and Free mac Software for OSX. Mac OS X Hints - A community-built collection of OS X hints.
---