Mac
Apple Updates AppFresh integrates native update checking for Apple software and system updates, so you don't need to run Apple's Software Update separately. Sparkle Updates By fully supporting RSS based Sparkle updates a great percentage of self updating applications can be updated using AppFresh. Microsoft AutoUpdate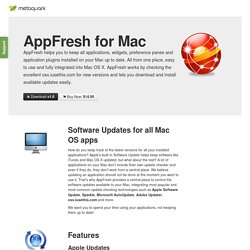 Watch & Manage System Resources with htop for Mac OS X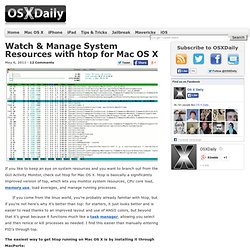 If you like to keep an eye on system resources and you want to branch out from the GUI Activity Monitor, check out htop for Mac OS X. htop is basically a significantly improved version of top, which lets you monitor system resources, CPU core load, memory use, load averages, and manage running processes. If you come from the linux world, you're probably already familiar with htop, but if you're not here's why it's better than top: for starters, it just looks better and is easier to read thanks to an improved layout and use of ANSII colors, but beyond that it's great because it functions much like a task manager, allowing you select and then renice or kill processes as needed. I find this easier than manually entering PID's through top.
Mac OS Terminal Replacement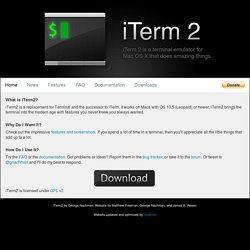 Q: I get blank windows, or transparent windows in Exposé. A: Try turning off blur in your terminals. Unfortunately Apple has yet to create a public API for this functionality, and the undocument API we use at the moment has glitches. Namely it doesn't work at all on some older Macs (eg, PowerPC iBook G4s), also on Snow Leopard it causes windows to disappear during expose. Q: I don't like the way that iTerm2 renders bold fonts.
Support - Search
HashTab HashTab provides OS extensions to calculate file hashes. HashTab supports many hash algorithms such as MD5, SHA1, SHA2, RipeMD, HAVAL and Whirlpool. HashTab is supported as a Windows shell extension and a Mac Finder plugin. HashTab provides an easy way to verify file integrity and authenticity.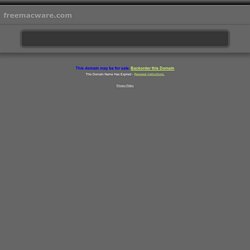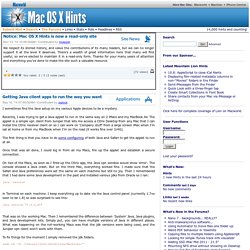 First thing I do when I get a new system is to redirect downloads from ~/Downloads to /tmp. The advantage with this adjustment is that in /tmp files older than a week is automatically deleted (and at every restart). Almost all files I download don't need to be stored, for example: