MUSIC SEARCH / RECOMMENDATION
Tubalr. Discovery. Lists. Discover new Music. Liveplasma. Music Roamer - Discover New Music. Moof - Social Music Reinvented. The Music Maze. Discover Music Online: The Ultimate Collection for Music Lovers » Life-Changing Arts. If you love to discover new music, explore or simply play (with) music, these are the websites that will most successfully and easily help you accomplish just that: The best music websites available online!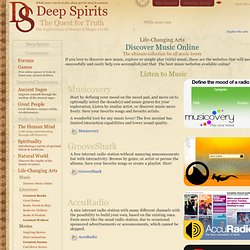 Musicovery Start by defining your mood on the mood pad, and move on to optionally select the decade(s) and music genres for your exploration. TuneGlue. Music-Map. Grooveshark - Listen to Free Music Online - Internet Radio - Free MP3 Streaming. Stereomood – emotional internet radio - music for my mood and activities.
---