MUSIC SEARCH / RECOMMENDATION
Lists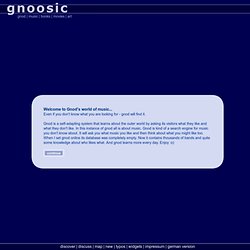 Welcome to Gnod's world of music... Even if you don't know what you are looking for - gnod will find it. Gnod is a self-adapting system that learns about the outer world by asking its visitors what they like and what they don't like. In this instance of gnod all is about music. Gnod is kind of a search engine for music you don't know about. It will ask you what music you like and then think about what you might like too.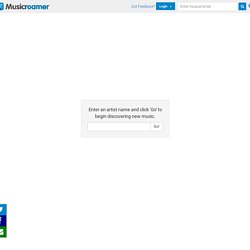 Potholes in my blog Discover new music. Type an artist or a keyword into the appropriate box. A web of related artists will be displayed.
If you love to discover new music, explore or simply play (with) music, these are the websites that will most successfully and easily help you accomplish just that: The best music websites available online! Musicovery Start by defining your mood on the mood pad, and move on to optionally select the decade(s) and music genres for your exploration.
Discover Music Online: The Ultimate Collection for Music Lovers » Life-Changing Arts