HOW TO
How to Thread Your Eyebrows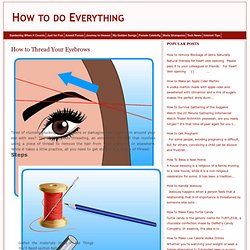 Tired of clumsily plucking with tweezers or damaging the fragile skin around your eye with wax? The alternative is threading, an extremely old skill that involves using a piece of thread to remove the hair from your eyebrows or elsewhere.
Use a Camera to Help See Your Clutter Trouble Spots
SExpand If you feel like you clean up but never really get rid of clutter perhaps you need a perspective shift.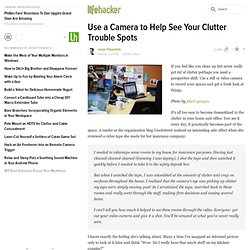 How To Fold A Fitted Sheet
You might know that there are special cameras for shooting panoramic pictures.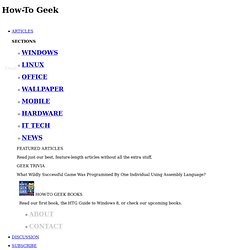 How To Make an Incredibly Easy Panoramic Photograph With Any Camera
The Best Photography Tips, Tricks, and Hacks of 2011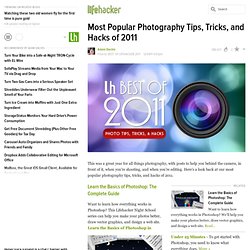 This was a great year for all things photography, with posts to help you behind the camera, in front of it, when you're shooting, and when you're editing. Here's a look back at our most popular photography tips, tricks, and hacks of 2011. Learn the Basics of Photoshop: The Complete Guide
[DIY video] 25 Ways to Wear a Scarf
Pack Your Suitcase as Efficiently as a Flight Attendant
This is actually a great set of packing tips - I've been doing it unintentionally for years, especially since if you're traveling for a week or less and you're going either alone or with one person, checking luggage these days is probably a bad idea.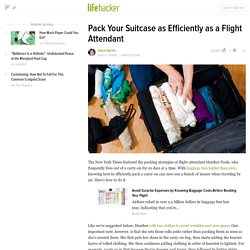 @Audaxero: I'm no chemist so take this with NaCl, but if wood is coated with polyurethane, I think it's reactive to water. I imagine heat speeds up the creation of tiny gas bubbles in the finish, hence the haze.
Clever Uses - Lifehacker stories - Lifehacker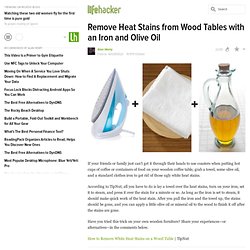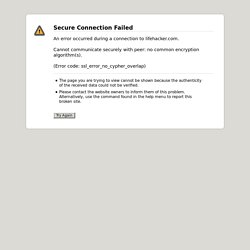 When it comes to the Google search box, you already know the tricks: finding exact phrases matches using quotes like "so say we all" or searching a single site using site:lifehacker.com gmail. But there are many more oblique, clever, and lesser-known search recipes and operators that work from that unassuming little input box. Dozens of Google search guides detail the tips you already know, but today we're skipping the obvious and highlighting our favorite obscure Google web search tricks.
Top 10 Obscure Google Search Tricks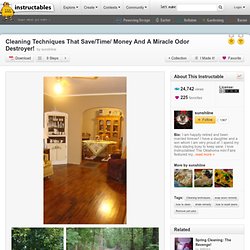 Here is a list of things you might consider doing. Find short cuts to what you are already doing. •Pick one fifteen minute or half hour thing you can do two or three days a week during the week.
Cleaning Techniques That Save/Time/ Money And A Miracle Odor Destroyer!
Top 10 Photography Hacks
"Magic Lantern turns Canon DSLRs with video capabilities into near-professional video cameras." No, it does not.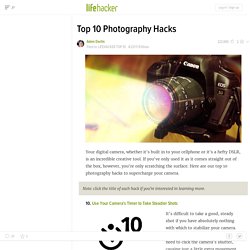 Hack Attack: Burn almost any video file to a playable DVD
by Adam Pash Click to viewPutting any old video file - like the DivX/Xvid-encoded videos you've downloaded with BitTorrent - onto a DVD to play on your TV can be a daunting task. There's plenty of software that tackles this sort of thing for a price, but as a lover of open source software, free's always my first choice.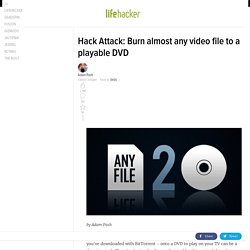 DIY Lighting Hacks for Digital Photographers
A Post By: Darren Rowse Lighting can be the difference between a good shot and a great one. Walk into most professional photographer's studios and you'll be confronted with truckloads of lighting equipment.
Cigarette Packet Flash Diffuser
Hack Attack: Turn your $60 router into a $600 router
Of all the great DIY projects at this year's Maker Faire, the one project that really caught my eye involved converting a regular old $60 router into a powerful, highly configurable $600 router. The router has an interesting history, but all you really need to know is that the special sauce lies in embedding Linux in your router.
Use Clear Nail Polish to Keep Metal Cans from Rusting
Shaving cream, cooking spray, and other products in metal cans can often rust and leave marks on your counters.
Swedish Fire Log
In this particular case some small twigs were also added to the kindling which turned out to be a mistake as they blocked the vertical air flow needed to ensure good ignition.
Remove LCD image burn-in
50 Things Everyone Should Know - StumbleUpon
How to bind papers without staples or clips [1]
FlyLady.net: Your personal online coach to help you gain control of your house and home
How To Draw - StumbleUpon
Learn the Basics of Photoshop: The Complete Guide
How To Cut A Glass Bottle Using A String Video
howto-s
Fix your LCD's dead pixels
How to sew on a button
Use an Orange Peel to Cook an Egg Over a Campfire
Top 40 Useful Sites To Learn New Skills
So Smart!
How to Sew.
Just Undo It. How to Transform a Hoodie into Nearly Everything. — Conceptual Devices
DIY Laptop Case From Your Old Hoodie | The Frisky
Eye on Fashion: DIY Lab: the scarf bag
Nae's "How's it Hangin' Braid"
the industrial cottage inc.
How to Make a No Sew Pillow Cover {no sew
50 Things Everyone Should Know How To Do
How To Fold Towels & Keep Them Hanging Straight In Your Bathroom - The Fun Times Guide to Household Tips
Eye on Fashion: DIY inspiration: the scarf top
How to Sew (using a sewing machine)
How To Do Cute Towel Foldings & Other Creative Ways To Fold Towels To Impress Your Guests - The Fun Times Guide to Household Tips
Tutorials
Napkin Folding Instructions: 27 Photographed Napkin Folds
Expert Videos, Step-by-Step Instructions, Helpful Tips - GMC Trade Secrets
How to make boxes from paint swatches
DIY Eco Friendly Chemical Free Carpet Fresh Recipe · Bath and Body | CraftGossip.com
How to Make a Paper Cup from a Sheet of Printer Paper
How to do Everything
More Show Me How: Everything We Couldn't Fit in the First Book Instructions for Life from the Everyday to the Exotic (9780061998799): Lauren Smith, Derek Fagerstrom