HEALTHY
10 Foods Every Dieter Should Eat | Hybrid Mom. Better Breakfasts: 8 Healthiest Breakfast Foods. Mom was right when she said breakfast is the most important meal of the day.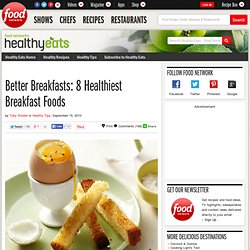 But what you choose for breakfast can make or break your day (sorry, bacon didn't make the list). Here are our top 8 foods that help make your morning meal a healthy one. Nonfat Greek Yogurt With more hunger-fighting protein than traditional yogurt, it'll keep those mid-morning hunger pangs at bay. How To Shop for Healthy Food - 10 Easy Steps to a Healthier You. Maintaining your health - and your family's health - is among the most important jobs any of us will ever have in this life.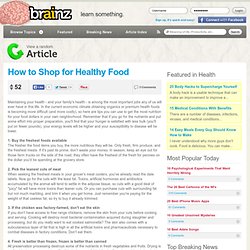 In the current economic climate obtaining organics or premium health foods is becoming more difficult (and more costly), so here are tips you can use to get the most nutrition for your food dollars in your own neighborhood. Remember that if you go for the nutrients and put some effort into proper preparation, you'll find that your hunger is satisfied with less bulk (you'll put on fewer pounds), your energy levels will be higher and your susceptibility to disease will be lower. 1. Buy the freshest foods availableThe fresher the food items you buy, the more nutritious they will be. Top 15 Cleansing Foods. When it comes to cleansing your body of harmful toxins, food really is the best medicine.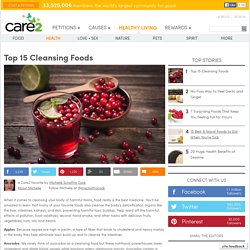 You'll be amazed to learn that many of your favorite foods also cleanse the body's detoxification organs like the liver, intestines, kidneys, and skin, preventing harmful toxic buildup. Help ward off the harmful effects of pollution, food additives, second-hand smoke, and other toxins with delicious fruits, vegetables, nuts, oils, and beans. Apples. Because apples are high in pectin, a type of fiber that binds to cholesterol and heavy metals in the body, they help eliminate toxic build up and to cleanse the intestines. Avocados. Oven-Baked Zucchini Fries - Fun & Food Cafe. Healthy Recipes and Meal Ideas. Food Network Magazine Blog Social Videos Full Episodes.
Best of Healthy Eats: Top Posts of 2010. We wrote about everything from apples to zucchini bread this year, with lots of healthy tips and ideas in between.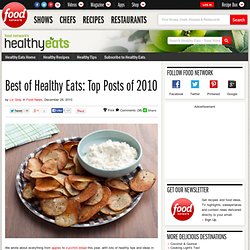 Here are your favorite posts of the year. #1: 50 Slimmed Down Comfort FoodsFrom macaroni and cheese to oven-fried chicken, you couldn't get enough of these healthier comfort food favorites. #2: 14 Foods Experts Won't Eat We polled food and nutrition experts (including guru Marion Nestle) to find out which foods they steer clear of. Healthy Indulgences: Healthy Chocolate Cake with a Secret. Cakes and Cupcakes, Chocolate, Dairy-Free, Fast n' Easy, Frosting, Grain-Free, Low Carbohydrate, Nut-Free, Sugar-Free Cake.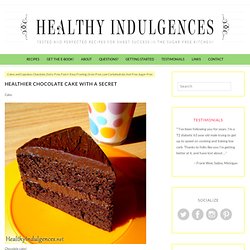 Chocolate cake! Chocolate cake made without flour, sugar, or dairy. Low carb and gluten-free, of course. Cake made out of a surprise ingredient, one that will make you wrinkle you're nose upon hearing it. Frugal Recipe: How to Make Your Own Amazing Muesli. Image courtesy Wikipedia Are you a fan of Muesli?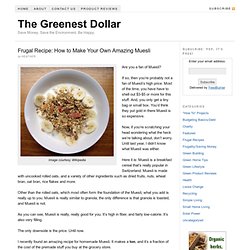 If so, then you're probably not a fan of Muesli's high price. Most of the time, you have have to shell out $3-$5 or more for this stuff. And, you only get a tiny bag or small box. You'd think they put gold in there Muesli is so expensive. Frugal Recipe: How to Make Your Own Amazing Muesli. 10 Healthy Meals You Can Make in Under 10 Minutes. Healthy Weeknight Dinners : Recipes and Cooking.
The World's Healthiest Foods. 100 foods that can serve as the basis of your Healthiest Way of Eating.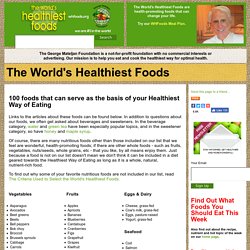 Links to the articles about these foods can be found below. In addition to questions about our foods, we often get asked about beverages and sweeteners. In the beverage category, water and green tea have been especially popular topics, and in the sweetener category, so have blackstrap molasses, honey and maple syrup. Of course, there are many other nutritious foods other than those that we have included on our list that we feel are wonderful, health-promoting foods; if there are other whole foods - such as fruits, vegetables, nuts/seeds, whole grains, etc - that you like, by all means enjoy them.
Detox Foods | Detox smoothies. Toxins-free for life Looking to increase your energy levels, to lose weight, get clearer skin, prevent premature ageing and to help preventing diseases?
Then look no further! This 5 days step-by-step detox will help you implement long-lasting healthy habits that yields results. Price: $47.
---