HEALTH
18 Health Tricks to Teach Your Body. Eating 10 hot dogs in 6 minutes and belching the national anthem may impress your friends, but neither of those feats will do much for your body—at least not much good.
Instead, why not train yourself to do something that may actually pay off? We're not talking bench presses and interval training (though those do help). You can teach your body to cure itself from everyday health ailments—side stitches, first-date jitters, even hands that have fallen asleep. Just study this list, and the next time your friends challenge you to an ice cream eating contest, chow down: You know how to thaw a brain freeze—and 17 other tricks that'll make everyone think you're the next David Blaine.
Medicinal Herbs Guide - Natural Herbs Guide - Healing Herbs Guide - StumbleUpon. Tibetan Eye Chart. Tibetan Eye Chart Give your body and your EYES the nutrition they need!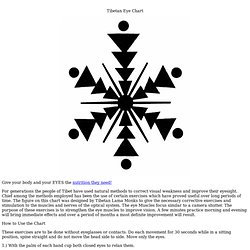 For generations the people of Tibet have used natural methods to correct visual weakness and improve their eyesight. Chief among the methods employed has been the use of certain exercises which have proved useful over long periods of time. The figure on this chart was designed by Tibetan Lama Monks to give the necessary corrective exercises and stimulation to the muscles and nerves of the optical system.
---