CREATIVITY
Concentrate, Then Stop Thinking to Generate More Creative Insights
Use "Weird Rules" To Boost Your Creativity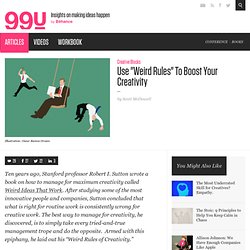 Ten years ago, Stanford professor Robert I. Sutton wrote a book on how to manage for maximum creativity called Weird Ideas That Work. After studying some of the most innovative people and companies, Sutton concluded that what is right for routine work is consistently wrong for creative work.
This quote comes from writer Haruki Murakami, reminding us that talent is basically irrelevant without the foundation of a good work ethic: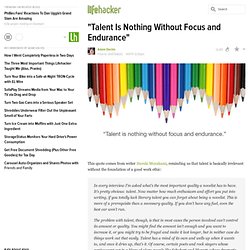 "Talent Is Nothing Without Focus and Endurance"
"Weird Rules" Can Help You Boost Your Creativity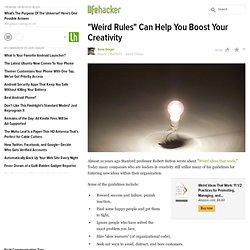 == "Reward success and failure; punish inaction" Or as Maverick (from Top Gun) said it, "You don't have time to think up there.
Top 10 Ways to Get Your Creative Juices Flowing
I'm a programmer, so my creative is creative thinking, not artistic creative like most people view the term. I do two basic things.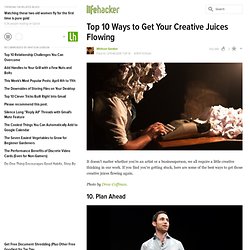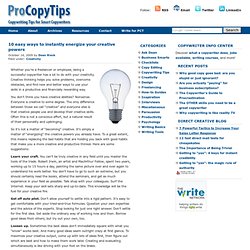 Whether you're a freelancer or employee, being a successful copywriter has a lot to do with your creativity.
10 easy ways to instantly energize your creative powers
Creative Thinking Activities and Games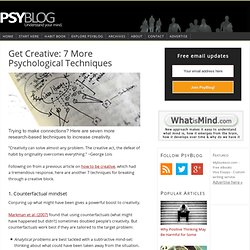 How to be Creative
Trying to make connections?
The mysterious connection between need for structure and creativity.
Creativity for the Cautious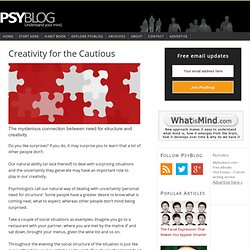 Looking for inspiration?