Crafts
Encyclopedia of Needlework, by Thérèse de Dillmont - Home, Preface, Table of contents, Chapters I - 16. Tutorial: Homemade Sidewalk Chalk | oh my! handmade goodness. By Michelle Vackar, Modern Handmade Child One of our favorite outside activities at our home is drawing with chalk on the driveway.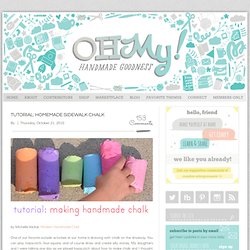 You can play hopscotch, four-square, and of course draw and create silly stories. My daughters and I were talking one day as we played hopscotch about how to make chalk and I thought to myself, let's try it! It ended up being quite a lot of fun. What you will need: • Toilet paper or paper towel tubes • Scissors • Duct tape • Wax paper • Small bucket or disposable container to make the recipe • ¾ cup of warm water • 1 ½ cups Plaster of Paris • 2-3 tablespoons of tempera paint • Paper bag or a "mess mat"
Lace work
Button it up! Diane Gilleland, aka Sister Diane, produces CraftyPod, a blog and bi-weekly podcast about Making Stuff.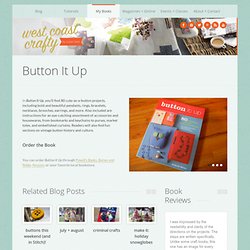 She also runs DIY Alert, a website about all things crafty in Portland, Oregon. Sarah Johner, both a crafter and a junker, enjoys everything from sewing and button crafts to collecting vintage pottery. Her blog, Making Projiks, The Misadventures of Mama & Jack, can be found at mamanjackjack.blogspot.com. Most favorited all-time - page 9. Silk screenign/painting. Snow-Globe Soap. Dec19 by Brenda Ponnay Stuff their stockings with something they can wash their hands with!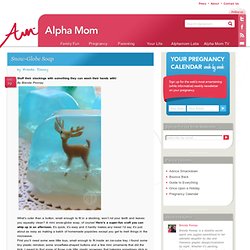 By Brenda Ponnay What's cuter than a button, small enough to fit in a stocking, won't rot your teeth and leaves you squeaky clean? A mini snow-globe soap, of course! Online | Make: Projects - Doortop Stash.
Rug making
Jewlery. Chrocket. My Favorite Blogs. Dying. DIY Solar Lamp: Make Your Own Eco-Friendly Sun Jars | Designs &Ideas on... The principle is simple and seductively clever: solar lights that store energy during the day and release light at night.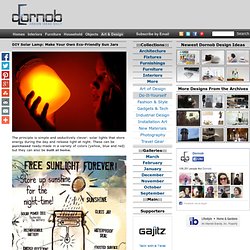 These can be purchased ready-made in a variety of colors (yellow, blue and red) but they can also be built at home. A simple, less-technical approach involves buying a conventional solar-powered yard lamp and then essentially harvesting it for key pieces to put in a jar. This is simply a way of taking an existing solar lamp design and appropriating its parts to make something more attractive for display around a house or home.
Etsy - Your place to buy and sell all things handmade, vintage, and supplies. Macrame. Sewing. Knitting.
---