Crafts
Encyclopedia of Needlework, by Thérèse de Dillmont - Home, Preface, Table of contents, Chapters I - 16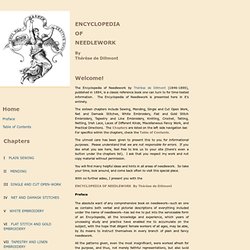 By Thérèse de Dillmont Welcome! The Encyclopedia of Needlework by Thérèse de Dillmont (1846-1890), published in 1884, is a classic reference book one can turn to for time-tested information. The Encyclopedia of Needlework is presented here in it's entirety.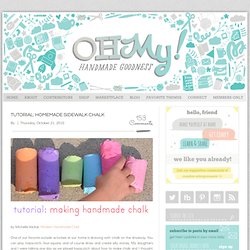 by Michelle Vackar, Modern Handmade Child One of our favorite outside activities at our home is drawing with chalk on the driveway. You can play hopscotch, four-square, and of course draw and create silly stories. My daughters and I were talking one day as we played hopscotch about how to make chalk and I thought to myself, let's try it! It ended up being quite a lot of fun. What you will need: • Toilet paper or paper towel tubes • Scissors • Duct tape • Wax paper • Small bucket or disposable container to make the recipe • ¾ cup of warm water • 1 ½ cups Plaster of Paris • 2-3 tablespoons of tempera paint • Paper bag or a "mess mat"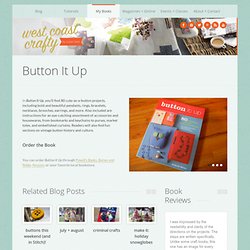 Diane Gilleland, aka Sister Diane, produces CraftyPod, a blog and bi-weekly podcast about Making Stuff. She also runs DIY Alert, a website about all things crafty in Portland, Oregon. Sarah Johner, both a crafter and a junker, enjoys everything from sewing and button crafts to collecting vintage pottery. Her blog, Making Projiks, The Misadventures of Mama & Jack, can be found at mamanjackjack.blogspot.com.
button it up!
Dec19 by Brenda Ponnay Stuff their stockings with something they can wash their hands with!By Brenda Ponnay What's cuter than a button, small enough to fit in a stocking, won't rot your teeth and leaves you squeaky clean? A mini snow-globe soap, of course!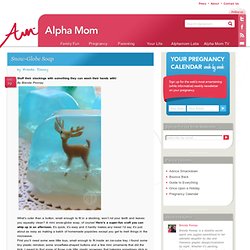 The principle is simple and seductively clever: solar lights that store energy during the day and release light at night. These can be purchased ready-made in a variety of colors (yellow, blue and red) but they can also be built at home. A simple, less-technical approach involves buying a conventional solar-powered yard lamp and then essentially harvesting it for key pieces to put in a jar. This is simply a way of taking an existing solar lamp design and appropriating its parts to make something more attractive for display around a house or home.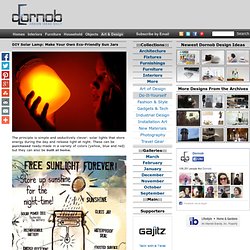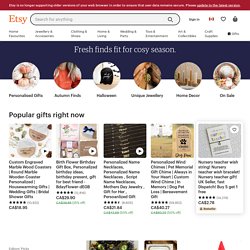 Close Sign In Using Facebook or Forgot your password? Forgot your username or email? Reopen your account?