Game development
This is no April Fools jokeYou heard me correctly. The FULL source code for BOTH Jedi Outcast and Jedi Academy has been released. I never thought we would see this day. In the words of @eezstreet: Quote
JKO, JKA Full Source Code Released!! - Site news - Articles - Home - JKHub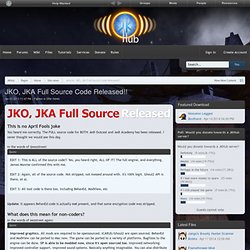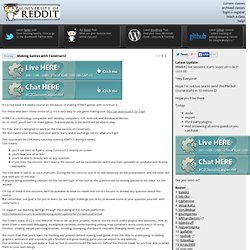 Making Games with Construct2
It's a real treat! A 4 weeks course on the basics of making HTML5 games with construct 2. For those who don't know construct 2, it's a very easy to use game making tool. (You can download it for free) HTML5 is a technology compatible with desktop computers, iOS, Android, and Windows8 devices. So, in short, you'll learn to make games that everybody in the world will be able to play.
[ Unity3D ] ビデオゲームの開発
Hi I'm Jesse Etzler a video game developer from Minnesota with a bachelors degree in computer science and game design .I've been developing video games for about 9+ years now. Also have worked for Activision Minneapolis. I love to create creepy and unique video games that are different from what everyone else is doing.
Maybe you've just come up with a great new idea. Perhaps you've always been curious how video games are made or wanted to learn how to make them yourself. Maybe you're feeling a little intimidated and not sure where to begin. Find out how my course has helped over 2300 students successfully learn to make games with Unity 3D and made this the most popular Unity course on Udemy!
Anyone Can Learn to Make a Game by Richard Hart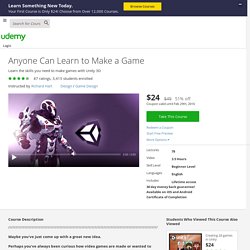 Make Games - Making it in Indie Games: Starter Guide
Modern OpenGL resources round up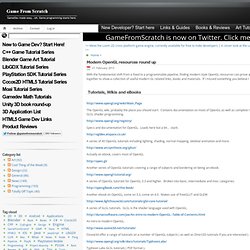 With the fundamental shift from a fixed to a programmable pipeline, finding modern style OpenGL resources can prove a bit tricky. Therefore I have put this page together to show a collection of useful modern GL related links, books and materials. If I missed something you believe I should add, please let me know! Tutorials, Wikis and eBooks
petrocket wrote:
Ogre Forums • View topic - Spacescape - Space Skybox Tool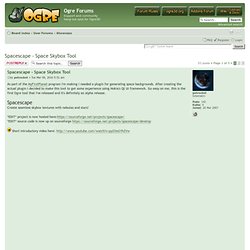 Unity Jump Start - Video Tutorials
APRON TUTORIALS OPENGL
APRON TUTORIALS OPENGL
OpenGL @ Lighthouse 3D - Terrain Tutorial
Multi-textured Terrain in OpenGL | 3D Game Engine Programming
Terrain Sample In this article I will demonstrate one possible way to generate multi-textured terrain using only the OpenGL rendering pipeline.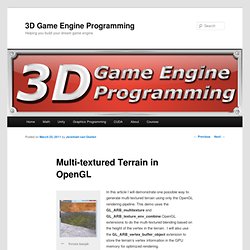 An OpenGL 3d Texturing Tutorial This tutorial is intended to demonstrate 3-dimensional texturing (not to be confused with simply texturing a 3d object) in OpenGL and familiarize the reader with its use. Familiarity with OpenGL 2D textures is assumed.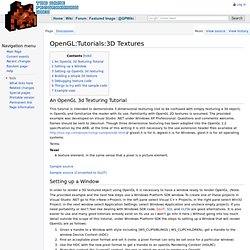 OpenGL:Tutorials:3D Textures
Computer Science With Python and Pygame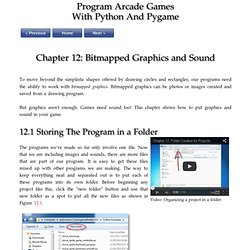 To move beyond the simplistic shapes offered by drawing circles and rectangles, our programs need the ability to work with bitmapped graphics. Bitmapped graphics can be photos or images created and saved from a drawing program. But graphics aren't enough. Games need sound too!
cs.simpson.edu/files/CS_Intro_Book.pdf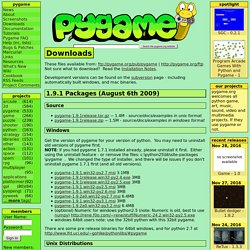 Downloads - pygame - python game development
Downloads These files available from: ftp://pygame.org/pub/pygame | http://pygame.org/ftp Not sure what to download?
Java-Gaming.org - home of the largest java game developer community
Reiner`s Tilesets
JUNG - Java Universal Network/Graph Framework
OpenGL Texture Tutorial
OpenGL Texture Tutorial home: http://www.geocities.com/SiliconValley/Code/1219/ e-mail: craterz@hotmail.com Texture Mapping Gregory Pierce in an e-mail requested information on texture mapping... here ya go!
OpenGL Video Tutorial - Lighting
Lighting in OpenGL One way we can make our scenes look cooler is by adding light to them. In this lesson, we're going to scrap the scene from our previous lessons and make a new one.