CoffeeScript testing
NodeJS Console Object Debug Inspector - Thomas Hunter - Web Development Tutorials and Personal Opinions
The NodeJS Console Object Debug Inspector, or simply node-codein, is a tool for providing a visual debugger of global node variables, as well as executing code inside of your running process. Think of it as a GUI REPL for a running node process. This GUI is run in a browser (it works best with Chrome, maybe only with Chrome). It provides expandable and collapsable nodes when dealing with hierarchal data, has syntax highlighting depending on the type of data involved. It will mirror your console.log() commands (they are shown in both the terminal as well as the GUI).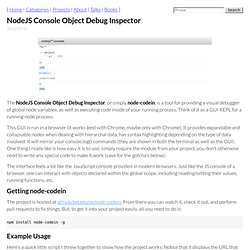 Building a Text-Based UI with Backbone and Charm
I am a little framework averse. When I write a program, I like to build from scratch as far as it is practical. Not using a framework gives me the feeling that I am so in control of my own destiny. But having said that, I will sometimes succumb to using a framework when it's very clear that the use of the framework will result in significantly less code, and/orsignificantly less complexity I recently rewrote a text-based user interface using Backbone, and as far as I know, that is a framework.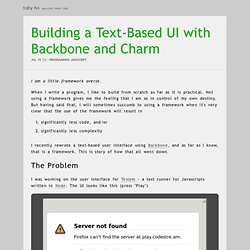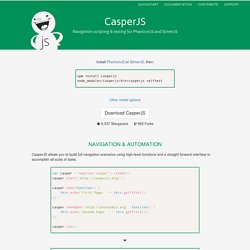 Casper.js is released under the terms of the MIT license. Copyright (c) 2011-2013 Nicolas Perriault Permission is hereby granted, free of charge, to any person obtaining a copy of this software and associated documentation files (the "Software"), to deal in the Software without restriction, including without limitation the rights to use, copy, modify, merge, publish, distribute, sublicense, and/or sell copies of the Software, and to permit persons to whom the Software is furnished to do so, subject to the following conditions: The above copyright notice and this permission notice shall be included in all copies or substantial portions of the Software. THE SOFTWARE IS PROVIDED "AS IS", WITHOUT WARRANTY OF ANY KIND, EXPRESS OR IMPLIED, INCLUDING BUT NOT LIMITED TO THE WARRANTIES OF MERCHANTABILITY, FITNESS FOR A PARTICULAR PURPOSE AND NONINFRINGEMENT.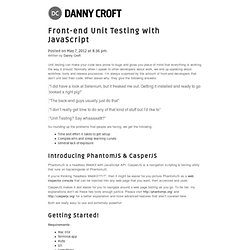 Unit testing can make your code less prone to bugs and gives you piece of mind that everything is working the way it should. Normally when I speak to other developers about work, we end up speaking about workflow, tools and release processes. I'm always surprised by the amount of front-end developers that don't unit test their code. When asked why, they give the following answers: "I did have a look at Selenium, but it freaked me out. Getting it installed and ready to go looked a right pig!"
Front-end Unit Testing with JavaScript | Danny Croft - Web Developer made in Wales but working in London 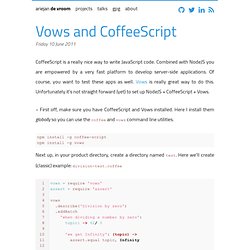 Vows and CoffeeScript
CoffeeScript is a really nice way to write JavaScript code. Combined with NodeJS you are empowered by a very fast platform to develop server-side applications. Of course, you want to test these apps as well. Vows is really great way to do this.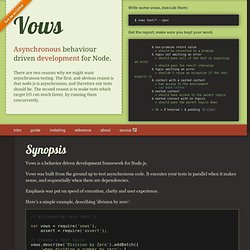 To understand Vows, we're going to start with a general overview of the different components involved in writing tests, and then go through some of them in more detail. Structure of a test suite Test suites in Vows are the largest unit of tests. The convention is to have one test suite per file, and have the suite's subject match the file name. Test suites are created with vows.describe. var suite = vows.describe('subject');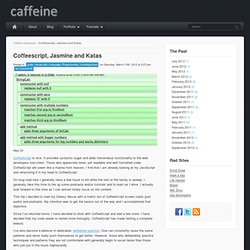 Posted in code, Javascript, Language, Programming, Uncategorized on Saturday, March 10th, 2012 at 2:07 pm Hey-O! CoffeeScript is nice. It provides syntactic sugar and adds tremendous functionality to the web developers tool-chest.
Coffeescript, Jasmine and Katas | Caffeine Industries