CoffeeScript testing
NodeJS Console Object Debug Inspector - Thomas Hunter - Web Development Tutorials and Personal Opinions. The NodeJS Console Object Debug Inspector, or simply node-codein, is a tool for providing a visual debugger of global node variables, as well as executing code inside of your running process.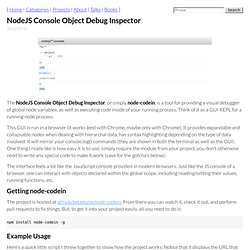 Think of it as a GUI REPL for a running node process. This GUI is run in a browser (it works best with Chrome, maybe only with Chrome). It provides expandable and collapsable nodes when dealing with hierarchal data, has syntax highlighting depending on the type of data involved. It will mirror your console.log() commands (they are shown in both the terminal as well as the GUI). Building a Text-Based UI with Backbone and Charm. I am a little framework averse.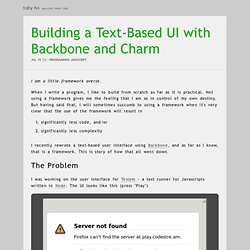 When I write a program, I like to build from scratch as far as it is practical. Not using a framework gives me the feeling that I am so in control of my own destiny. But having said that, I will sometimes succumb to using a framework when it's very clear that the use of the framework will result in significantly less code, and/orsignificantly less complexity I recently rewrote a text-based user interface using Backbone, and as far as I know, that is a framework. CasperJS, a navigation scripting and testing utility for PhantomJS | CasperJS 1.0.0-RC1. Front-end Unit Testing with JavaScript | Danny Croft - Web Developer made in Wales but working in London 
Unit testing can make your code less prone to bugs and gives you piece of mind that everything is working the way it should.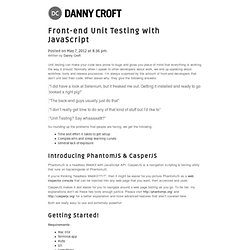 Normally when I speak to other developers about work, we end up speaking about workflow, tools and release processes. I'm always surprised by the amount of front-end developers that don't unit test their code. When asked why, they give the following answers: "I did have a look at Selenium, but it freaked me out. Getting it installed and ready to go looked a right pig!" Vows and CoffeeScript. CoffeeScript is a really nice way to write JavaScript code.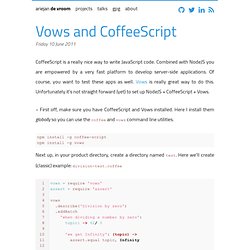 Combined with NodeJS you are empowered by a very fast platform to develop server-side applications. Of course, you want to test these apps as well. Vows is really great way to do this. Vows « Asynchronous BDD for Node. Coffeescript, Jasmine and Katas | Caffeine Industries. Posted in code, Javascript, Language, Programming, Uncategorized on Saturday, March 10th, 2012 at 2:07 pm Hey-O!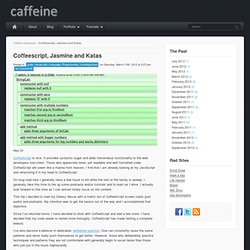 CoffeeScript is nice. It provides syntactic sugar and adds tremendous functionality to the web developers tool-chest.
---