French
Language Learning with Livemocha | Learn a Language Online - Free! Learn French Online for Free: Phrases, Vocabulary, Grammar, Pron. Useful Information Recordings of mp3s were done by a native speaker of French from Haute-Savoie.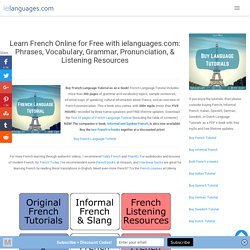 Feel free to download them for your own personal use or in other non-commercial educational settings. I encourage French teachers to use them in classes too! If you use Mozilla Firefox, I highly recommend the DownThemAll add-on to make downloading much faster and easier. For the vocabulary lists, I am making audio flashcards [French to English and English to French] with a flash mp3 player in each "card" so you can listen to the pronunciation of the words as you study. Bilingual audiobooks to Learn French Easy. TCF (Test de Connaissance du fran?ais) : entra?nement, exemples, simulations avec le CIEP sur TV5MONDE. Ces items ont étés conçus et validés linguistiquement et pédagogiquement, afin de correspondre le plus fidèlement possible à des items que vous êtes susceptibles de rencontrer dans des sessions du TCF donnant lieu à l'attribution d'une attestation officielle.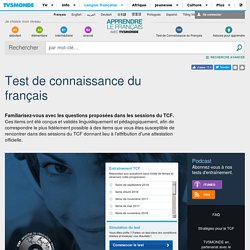 Entraînement TCF Répondez aux questions sans limite de temps et observez votre progression. Radio France Internationale, apprendre, enseigner la langue fran.
---