Food
Joy the Baker —
I feel like I'm grasping tight to the things around me these days. I'm probably the first to shrug off the change of season, the change of moving cities, and the change of traveling a ton as no big deal…. but it all adds up to matter and I have to admit I feel a little crazy in the brain. This season I've started a new workout routine.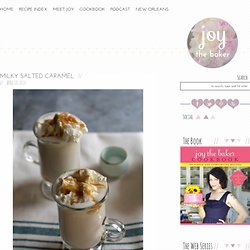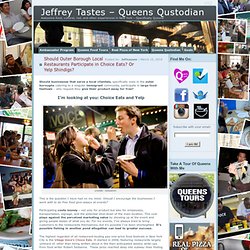 Jeffrey Tastes
Should businesses that serve a local clientele, specifically ones in the outer boroughs catering to a singular immigrant community, participate in large food festivals – who request they give their product away for free? I'm looking at you: Choice Eats and Yelp credit: cessemi This is the question I have had on my mind: Should I encourage the businesses I work with to do free food give-aways at events?
I'm not the only one who is sometimes confounded by the French language. We recently had lunch at Café des Musées and my (French) partner ordered the entrecôte. Which I was eyeing on the menu, as I always do. But since I just finished a holiday food binge of epic proportions (plus a recent trip to San Francisco, where I gorged on tortillas, chow fun, and burritos), I decided to be a little more prudent and order the daily chalkboard special, a game dish that came with a salade de saison. Americans have an interesting relationship with steaks and beef: Before ordering, most people want to know what cut they're going to get.
David Lebovitz
The Busy Wooden Horse My Chinese zodiac sign is the wooden horse, and since this is the year of the wooden horse I'm not surprised I'm starting out the year with a busy schedule. For the first time in a very long shile, I did not make a family Chinese New Year dinner at home. But I do have very good reasons for this lapse. First of all I've been busy with the manuscript for my upcoming book, which is now due in the spring that I was supposed to have completed last fall.
Red Cook - Adventures from a Chinese Home Kitchen
I just came back from a long weekend of Chinese New Year celebrations in Boston, where I basically gorged on good seafood the whole time. It's the double threat of being in a New England city known for its abundance of seafood, and being in the midst of the New Year celebrations where lobster, steamed fish, seafood nests, and shrimp and scallop stir-fries are de rigueur. So naturally, when I came back to New York earlier this week, I was still on a seafood high. And wanted to continue cooking it both for weekday meals and for sharing with you all on this here blog.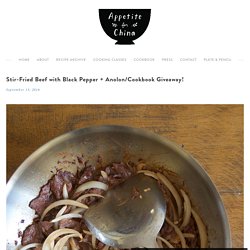 Appetite for China —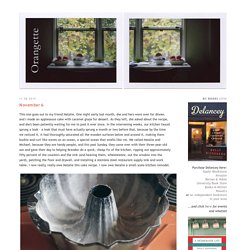 June has mastered a new word, and that word is eat. It's one of many things I like about her. Because Brandon works most nights, I get up with June most mornings. I have developed a condition that my friend Andrea calls Bionic Mom Hearing, so I sleep with earplugs and a pillow over my head. It's a sight I think you would enjoy. But she manages to wake me up anyway (MAAA!
Orangette