Sounds
Etta James. James is regarded as having bridged the gap between rhythm and blues and rock and roll, and is the winner of six Grammys and 17 Blues Music Awards.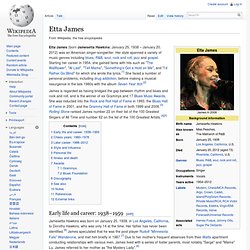 She was inducted into the Rock and Roll Hall of Fame in 1993, the Blues Hall of Fame in 2001, and the Grammy Hall of Fame in both 1999 and 2008.[3] Rolling Stone ranked James number 22 on their list of the 100 Greatest Singers of All Time and number 62 on the list of the 100 Greatest Artists.[4][5] Early life and career: 1938–1959[edit] Jamesetta Hawkins was born on January 25, 1938, in Los Angeles, California, to Dorothy Hawkins, who was only 14 at the time.
Her father has never been identified.[6] James speculated that he was the pool player Rudolf "Minnesota Fats" Wanderone, and met him briefly in 1987.[7] Due to her mother's frequent absences from their Watts apartment conducting relationships with various men, James lived with a series of foster parents, most notably "Sarge" and "Mama" Lu. Pierre barouh - plus fort que nous lyrics. Free Nature Sounds Mixer. Silat Suffian Bela Diri - 12 Essential Gun / Firearm Disarms. Player. Search Tracks. The young may moon. Lord Leopard Caribou.
---