Sounds
Etta James (born Jamesetta Hawkins; January 25, 1938 – January 20, 2012) was an American singer-songwriter. Her style spanned a variety of music genres including blues, R&B, soul, rock and roll, jazz and gospel. Starting her career in 1954, she gained fame with hits such as "The Wallflower", "At Last", "Tell Mama", "Something's Got a Hold on Me", and "I'd Rather Go Blind" for which she wrote the lyrics.[1] She faced a number of personal problems, including drug addiction, before making a musical resurgence in the late 1980s with the album Seven Year Itch.[2] James is regarded as having bridged the gap between rhythm and blues and rock and roll, and is the winner of six Grammys and 17 Blues Music Awards.
Etta James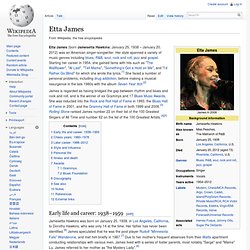 pierre barouh - plus fort que nous lyrics - Google Search
Use this free tool to play nature sounds on headphones while reading or meditating or just for fun. How to use Sound Mixer 1. Choose a sound In order for nature sounds to start playing choose a sound from drop-down box for one channel and drag the volume slider up.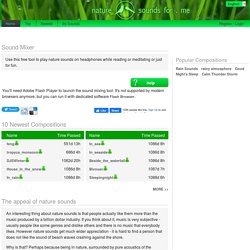 Silat Suffian Bela Diri - 12 Essential Gun / Firearm Disarms
Search Tracks on SoundCloud
the young may moon - Google Search
Lord Leopard Caribou