Films
Howl's Moving Castle adapted for the stage in Southwark. 5 December 2011Last updated at 08:16 By Kev Geoghegan Entertainment reporter, BBC News Fantasy story Howl's Moving Castle is still, arguably, best known to cinema audiences as an Oscar-nominated 2004 Japanese animation, written and directed by Hayao Miyazaki.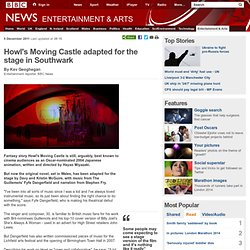 But now the original novel, set in Wales, has been adapted for the stage by Davy and Kristin McGuire, with music from The Guillemots' Fyfe Dangerfield and narration from Stephen Fry. "I've been into all sorts of music since I was a kid and I've always loved instrumental music, so its just been about finding the right chance to do something," says Fyfe Dangerfield, who is making his theatrical debut with the score. Continue reading the main story Some people may come expecting to see a stage version of the film and it's nothing like it really" The Postman Always Rings Twice (1981 film) Frank Chambers (Jack Nicholson), a drifter, stops at a rural California diner for a meal, and ends up working there.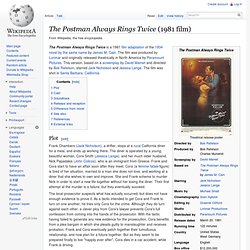 The diner is operated by a young, beautiful woman, Cora Smith (Jessica Lange), and her much older husband, Nick Papadakis (John Colicos), who is an immigrant from Greece. Frank and Cora start to have an affair soon after they meet. Cora (a femme fatale figure) is tired of her situation, married to a man she does not love, and working at a diner that she wishes to own and improve. Magnum Force. Plot[edit] In 1972,[2] mobster Carmine Ricca (Richard Devon) drives away from court and an angry mob after being acquitted on a technicality.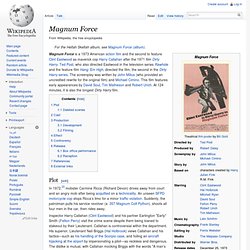 An unseen SFPD motorcycle cop stops Ricca's limo for a minor traffic violation. Suddenly, the patrolman pulls his service revolver (a .357 Magnum Colt Python), shoots all four men in the car, then rides away. Inspector Harry Callahan (Clint Eastwood) and his partner Earlington "Early" Smith (Felton Perry) visit the crime scene despite them being loaned to stakeout by their Lieutenant. Shiner (2004 film) Shiner is a 2004 released film written and directed by Christian Calson.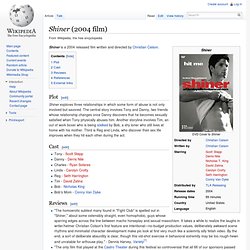 Shiner explores three relationships in which some form of abuse is not only involved but savored. The central story involves Tony and Danny, two friends whose relationship changes once Danny discovers that he becomes sexually satisfied when Tony physically abuses him. Another storyline involves Tim, an out of work boxer who is being stalked by Bob, a shy loner who still lives at home with his mother.
Les invasions barbares (2003. Quotes Rémy: [in French] Contrary to belief, the 20th century wasn't that bloody.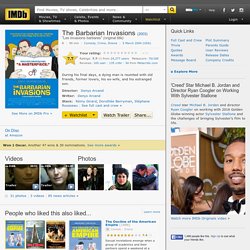 It's agreed that wars caused 100 million deaths. Add 10 million for the Russian gulags. The Chinese camps, we'll never know, but say 20 million. So 130, 145 million dead. Cave of Forgotten Dreams (2010. El laberinto del fauno (2006. Quotes [first lines] Pan: A long time ago, in the underground realm, where there are no lies or pain, there lived a Princess who dreamed of the human world.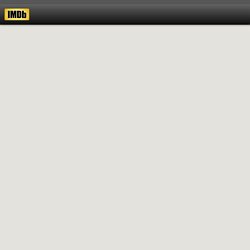 She dreamed of blue skies, soft breeze, and sunshine. One day, eluding her keepers, the Princess escaped. Once outside, the brightness blinded her and erased every trace of the past from her memory. Up (2009. Auf der anderen Seite (2007. Edit Storyline Nejat seems disapproving about his widower father Ali's choice of prostitute Yeter for a live-in girlfriend.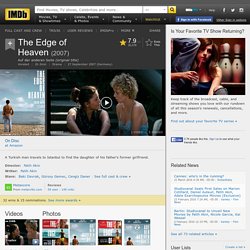 But he grows fond of her when he discovers she sends money home to Turkey for her daughter's university studies. Antoine Doinel. La Haine (la chute)