Death penalty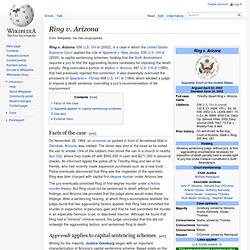 Ring v. Arizona
Ring v. Arizona, 536 U.S. 584 (2002), is a case in which the United States Supreme Court applied the rule of Apprendi v.
Ronald Clark O'Bryan
Ronald Clark O'Bryan (nicknamed The Candyman) (October 19, 1944 – March 31, 1984) was a murderer from Deer Park, Texas convicted of killing his eight-year-old son Timothy on Halloween, 1974 with cyanide-laced candy in order to claim life insurance money. He may have also distributed poisoned candy to other children in an attempt to cover up his crime; but neither his daughter, Elizabeth, nor any other child ate any poisoned candy. O'Bryan was eight months behind on his car payments and had total debts of almost $100,000.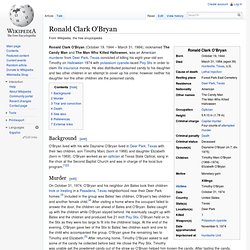 Pogo the Clown - Google Search
Final statement
When a person accused of a crime is convicted and sentenced to capital punishment, the person can make a final statement, or express their "last words", before being executed.