Resources
Solitarytree: Fabric folds tutorial part 2. The last two brushes in the set are single fold brushes.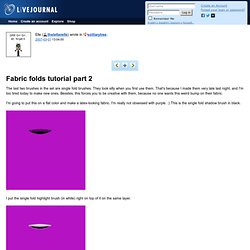 They look silly when you first use them. That's because I made them very late last night, and I'm too tired today to make new ones. Besides, this forces you to be creative with them, because no one wants this weird bump on their fabric. I'm going to put this on a flat color and make a latex-looking fabric. INTRO SECOND LIFE FASHION SERIES. Please note that we are using the Robin Wood's 1024 by 1024 px JPG avatar Top template with the video above.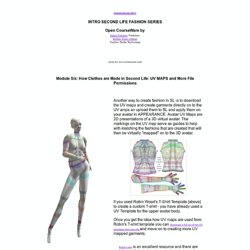 The higher resolution will give you much more control when your are matching seams on the UV map. You must make sure your garment goes about 3/8 inch over all the edges [focus on the highlighted edges] to avoid white lines on the avatar where the garments seams meet. Before you save your custom image to preview it in Second LIfe [before you pay and upload it] you should go to IMAGE>IMAGE SIIZE and change the size to 512 X 512 pixels. Upload your files as a 32 bit TGA file format. [note: you are selecting 32 bit instead of 24 bit because you have an alpha transparency channel created] Adobe Photoshop CS4 * Paint on 3D models (Photoshop Extended) Editing Hair (alphas & recolouring) By request, I'm posting an updated version of the hair tut I had up at SFV.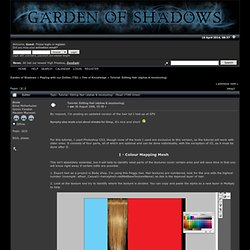 Nymphy also made a tut about streaks for Gimp, it's nice and short For this tutorial, I used Photoshop CS3, though none of the tools I used are exclusive to this version, so the tutorial will work with older ones. It consists of four parts, all of which are optional and can be done individually, with the exception of III, as it must be done after II. Photoshop Friday 2007 #5! Scalloped Edges! - Home - Sprague Lab - Digital and Hybrid Scrapbooking + Notes from JessicaSprague.com + Daily Goodness.
Listutorial: Tutorial 4 - Horizontal lists - Variation - Center the list. Tutorial 4 - Horizontal lists - all steps combined There are many methods that can be used to making a horizontal list.
The main ingredient is "display: inline", applied to the "LI" element. HTML CODE <div id="navcontainer"> <ul> <li><a href="#">Milk</a></li> <li><a href="#">Eggs</a></li> <li><a href="#">Cheese</a></li> <li><a href="#">Vegetables</a></li> <li><a href="#">Fruit</a></li> </ul> </div> Step 1 - Make a basic list Start with a basic unordered list. OpenCanvas 1.1 Tutorial-BIG by =pichu4850 on deviantART. So you want to create WordPress themes huh? Speed Up Firefox web browser  If you're new here, you may want to subscribe to my RSS feed and if you have questions related to your ubuntu system post question to our forums.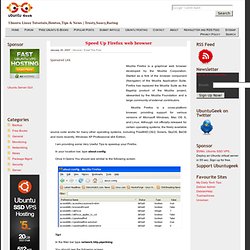 Thanks for visiting! Sponsored Link Mozilla Firefox is a graphical web browser developed by the Mozilla Corporation. Bikini Babe Painter X painting tutorial with audio instructions Part 4/15. Painter 9 watercolor brush settings??? Hi Portus,It's important to distinguish between Painter's Watercolor brush category and Painter's Digital Watercolor brush category as they work quite differently.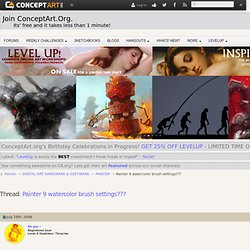 In your post above, it seems you may be thinking of Digital Watercolor, not Watercolor. WatercolorDrying a Watercolor Layer does not make it possible to work on that Watercolor Layer using non-Watercolor brush variants.To work on a Watercolor Layer with brush variants from another brush category (with the exception of Liquid Ink which only works on Liquid Ink Layers), you'll need to do the following:1. In the Layers palette, highlight the Watercolor Layer.2. From the Layers palette menu, choose Convert to Default Layer. Painter - Tutorials.
Tutorial: Firefly Rendering Tips. Firefly Rendering Tips The Firefly render engine, introduced in Poser 5, provides Poser users with a high-quality micropolygon rendering engine capable of extremely accurate, photorealistic output.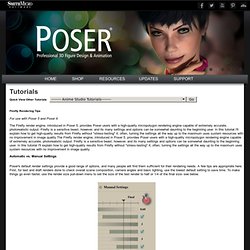 Firefly is a sensitive beast, however, and its many settings and options can be somewhat daunting to the beginning user. In this tutorial I'll explain how to get high-quality results from Firefly without "stress-testing" it; often, turning the settings all the way up to the maximum uses system resources with no improvement in image quality.The Firefly render engine, introduced in Poser 5, provides Poser users with a high-quality micropolygon rendering engine capable of extremely accurate, photorealistic output. The "Perfect" Eye :: DewaldHein.com.
Superimposing Images onto Backgrounds - Part II - ArtZone Wiki. Tutorial: David Ho- How To Create "Block Figures" David Ho- How To Create "Block Figures" For Poser 5, 6 or 7 and Photoshop CS, CS2 or CS3My series of block figures deals with themes on the disintegration and integration of man.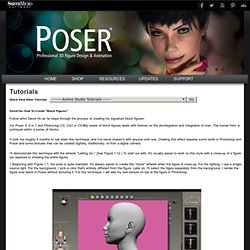 The human form is portrayed within a series of blocks. It took me roughly 6 months to nail down this technique, and I've never shared it with anyone until now. Creating this effect requires some skills in Photoshop and Poser and some textures that can be created digitally, traditionally, or from a digital camera. Tutorial: Hard Surface Texture Painting. If it's studio max then, choose mental ray as your renderer.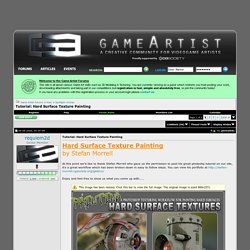 Then set the background to white. Apply a standard material to your object, also set it white. In the environment menu turn the global lighting spinner to 0, ( everything will go black). Add an ambient occlution material to the self illumination slot in the material you have assigned to your objects. Set the samples to 128 in the mat editor. PHP Includes » tutorialtastic.co.uk.
PHP includes are essentially for including data from one file into another; they are also very handy at making your website easier to maintain.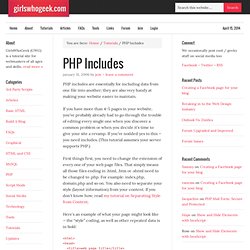 If you have more than 4-5 pages in your website, you've probably already had to go through the trouble of editing every single one when you discover a common problem or when you decide it's time to give your site a revamp. If you've nodded yes to this — you need includes. (This tutorial assumes your server supports PHP.) Shaping Up: A Shapes Tutorial - Part 1. Dragon Paint Art Tutorials - How to Draw Feathered Wings. Web tutorials and free templates | Even fairies have to rest - glow and lightning tutorial. Tip: Check Your works at least on three most popular browsers. In this tutorial I'll show You how to add glow and lightning effects to a photography. But this won't be only glowing tantacles, we will try to make something more creative. Step 1. Digital Arts - Features.
SL Forums - Free Templates Part 4 - Final CMFF Master Templates. Zuzi Martinez goth dachshund Join date: 4 Sep 2004. Isometric Pixel Art, Complete Guide: Chapter 2 - pixel art tutorial. Tutorials. Nezbitten's blog - Photoshop fun making an eyeball - Updated! Posted by nezbitten, Jun 25, 2008 2:32 PM — 98 comments Eyeball. Colour Pupil and Iris This is a texture that I found to be very effective for the Iris of an eye.
Sculpty Videos - Watch Video about Sculpty on Mefeedia. Photoshop Web Graphics Broken Glass Tutorial. Photoshop Tutorials from PhotoshopCAFE -free Photoshop training. Css | graphics as bullet points. DeviantART: PrettyBrush. Tutorialtastic.co.uk.
---