Resources:actions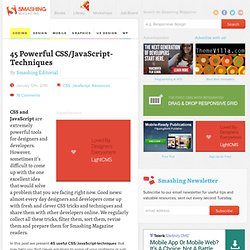 Advertisement CSS and JavaScript are extremely powerful tools for designers and developers. However, sometimes it's difficult to come up with the one excellent idea that would solve a problem that you are facing right now. Good news: almost every day designers and developers come up with fresh and clever CSS tricks and techniques and share them with other developers online. We regularly collect all these tricks, filter them, sort them, revise them and prepare them for Smashing Magazine readers. In this post we present 45 useful CSS/JavaScript-techniques that may help you find clever solutions to some of your problems or just get inspired by what is possible with CSS.
Advertisement Quotes are used to emphasize excerpts of text. Since users almost never read but scan we need to provide them with some focus anchors to fix their attention to the most important parts of our articles.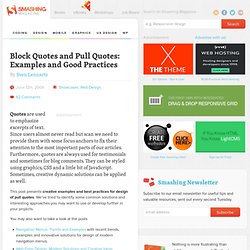 Block Quotes and Pull Quotes: Examples and Good Practices | Design Showcase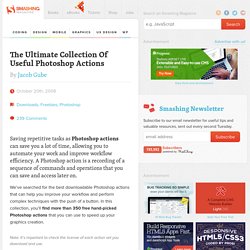 Advertisement Saving repetitive tasks as Photoshop actions can save you a lot of time, allowing you to automate your work and improve workflow efficiency. A Photoshop action is a recording of a sequence of commands and operations that you can save and access later on. We've searched for the best downloadable Photoshop actions that can help you improve your workflow and perform complex techniques with the push of a button.