Crystallizing Public Opinion
Infographic: Media Consolidation – The Illusion of Choice
Since CNN broadcasters seem so intent on looking back decades into promo letters and newletters put out by one of Ron Paul's organizations,when everyone admits Ron Paul did not write the letters, lets take a look at the background of some of those affiliated with CNN.
Doing a Background Check on CNN
Anderson Cooper Comes In From the Cold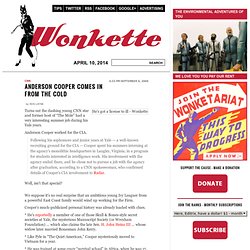 Turns out the dashing young CNN star and former host of "The Mole" had a very interesting summer job during his Yale years.
Wolf Blitzer: From AIPAC Lobbyist to CNN's Chief News Anchor
Fox and G.E. Reach Deal to End O'Reilly-Olbermann Feud
OUTFOXED: Rupert Murdoch's War on Journalism -- Trailer
Media Reacts To Conan's Same-Sex Wedding News
Busted:Fox News CPAC Ron Paul Video Deception
BLATANT CENSORSHIP by CNN of Soldier Supporting Ron Paul's Foreign Policy [PLEASE RE-POST NOW]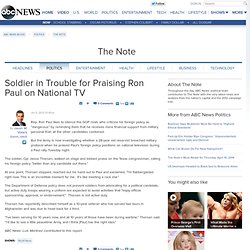 Jan 5, 2012 10:41am Rep.
Soldier in Trouble for Praising Ron Paul on National TV
Raw footage shows Ron Paul DIDN'T storm out of CNN interview over racist newsletters... the interview was simply done
By Meghan Keneally UPDATED: 20:15 GMT, 24 December 2011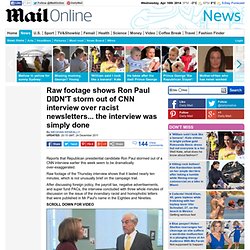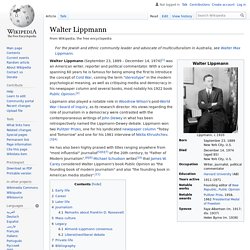 Walter Lippmann
Walter Lippmann (September 23, 1889 – December 14, 1974 [ 1 ] ) was an American public intellectual , writer , reporter , and political commentator famous for being among the first to introduce the concept of Cold War ; he coined the term stereotype in the modern psychological meaning as well.
Edward Louis Bernays (November 22, 1891 – March 9, 1995) was an Austrian-American pioneer in the field of public relations and propaganda , referred to in his obituary as "the father of public relations". [ 1 ] He combined the ideas of Gustave Le Bon and Wilfred Trotter on crowd psychology with the psychoanalytical ideas of his uncle, Sigmund Freud .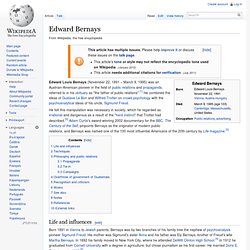 The Century Of The Self-Full Length Documentary
Vance Packard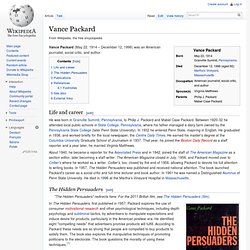 Vance Packard (May 22, 1914 – December 12, 1996) was an American journalist, social critic, and author.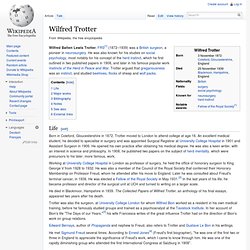 Wilfred Batten Lewis Trotter , FRS [ 1 ] (1872–1939) was a British surgeon , a pioneer in neurosurgery . He was also known for his studies on social psychology , most notably for his concept of the herd instinct , which he first outlined in two published papers in 1908, and later in his famous popular work Instincts of the Herd in Peace and War .
Wilfred Trotter
Gustave Le Bon
Gustave Le Bon (7 May 1841 – 13 December 1931) was a French social psychologist , sociologist , and amateur physicist . He was the author of several works in which he expounded theories of national traits, racial superiority , herd behavior and crowd psychology . His work on crowd psychology became important during the first half of the twentieth century when it was used by media researchers such as Hadley Cantril and Herbert Blumer to describe the reactions of subordinate groups to media.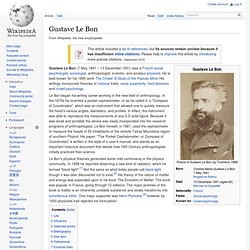 The Noam Chomsky Website
War Made Easy
Hearts & Minds - Vietnam Documentary - New Trailer