Typing Sites
Online Typing Games Welcome to Online Typing Games! We aim to collect the top online typing games here. Practice your typing skills here! Whether you are a young kid at school, or a grownup that could use some help in improving your computer skills, or a teacher who wants to make her typing lessons fun, engaging, and effective, OnlineTypingGames.org is the gaming website you simply have to check out!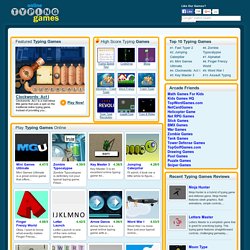 Typing Games | Play Free Typing Games Online
test your typing skills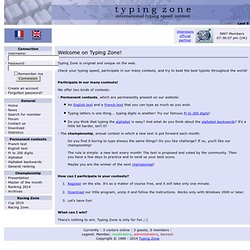 Welcome on Typing Zone! Typing Zone is original and unique on the web. Check your typing speed, participate in our many contests, and try to beat the best typists throughout the world!
Typing Zone: international typing speed contest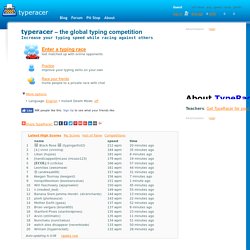 TypeRacer is loading... It appears that TypeRacer is taking too long to load on your computer. You are seeing this message for one of the following reasons: Your web browser is not configured properly for this website This website is temporarily unavailabe Your internet connection is currently slow or unreliable Your computer or network contains software blocking this site If refreshing the page doesn't help, the easiest solution is to try a different web browser. The following browsers are known to work with this site: Try a different browser even if yours is on the list – solves the problem 99% of the time!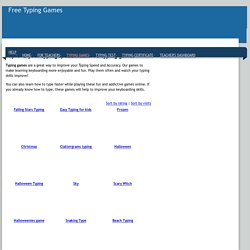 Typing games are a great way to improve your typing speed and accuracy. Typing games make practicing keyboarding more enjoyable and fun. Recommended other free typing games online:http://www.FreeTypingGames.us http://www.TypingGamesFree.com visits: 1466 | rating: 3.76
Free Typing Games Online
Touch typing games have become one of the most popular ways to develop typing skills in the classroom through the level of interaction they allow and the variety of students which they appeal to. While playing, students are also learning hand eye coordination and muscle memory. These are two of the most important elements of mastering touch typing. Typing games have proven to be effective when it comes to learning how to quickly pick up a new skill.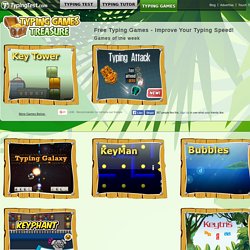 hi-games.net - Free online games