Recursos
ecAr@tumblr Latest Posts / Blog Profile // Page 8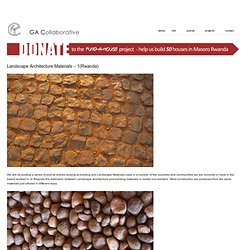 Landscape Architecture Materials – 1(Rwanda) We will be posting a series of journal entries looking at building and Landscape Materials used in a number of the countries and communities we are currently or have in the based worked in. In Rwanda the distinction between Landscape Architecture and building materials is mostly non-existent. Most construction are produced from the same materials just utilized in different ways.
Landscape Architecture Materials – 1(Rwanda) – general architecture collaborative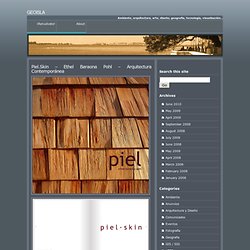 Piel.Skin – Ethel Baraona Pohl – Arquitectura Contemporánea
From MoCo Loco: We often get books by mail at MoCo Loco, but today we got one via email, the "First Paperless Architecture Book EVER: Piel". Piel.Skin is the culmination of two years of architectural research into dynamic facades, ventilated, high-tech or traditional composites with new features. "This book shows that currently new skins not only act as an isolating element, besides interact with the environment, optimizing energy exchange with the outside. From Germany to Australia or Korea to Colombia, there are many examples that readers can visit with this publication.".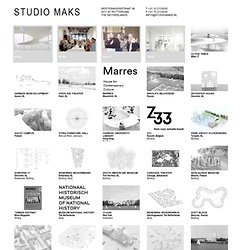 MAKS | Architecture, Urbanism, Design
STUDIO MAKS wins prize with proposal "Urban Nature" for the City of Assen MAKS in curated collection young Dutch talent by MVRDV /Archello Completion of the renovation & refurbishment including a 150m long study table 1st phase of renovation completed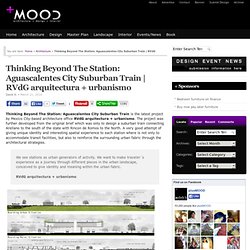 Thinking Beyond The Station: Aguascalentes City Suburban Train is the latest project by Mexico City-based architecture office RVdG arquitectura + urbanismo. The project was further developed from the original brief which was only to design a suburban train connecting Arellano to the south of the state with Rincon de Romos to the North. A very good attempt of giving unique identity and interesting spatial experience to each station where is not only to accommodate transit facilities, but also to reinforce the surrounding urban fabric through the architectural strategies.
Thinking Beyond The Station: Aguascalentes City Suburban Train | RVdG arquitectura + urbanismo
2010 Lund - ESS and MaxLabIV Hjörtur Hannesson - Lund NE [pdf] Dangoule Rucinskaite - Patch [pdf] Nicholas Bigelow - Forming center [pdf] 2009 Landskrona - Railway station Landskrona Looking beyond - Ashwin Karjatkar [pdf]
unnamed pearl