Future
Memo to Newspapers: Incremental Change is Not Helping: Tech News and Analysis « Making the transition from being traditional print publishers to digital-first media outlets hasn't been easy for newspapers — in fact, many have stubbornly resisted, and tried to dip their toes into digital waters gradually without investing any substantial effort or resources.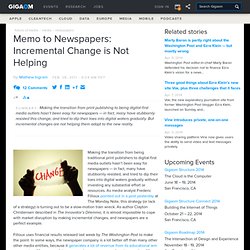 As media analyst Frederic Filloux pointed out in a post yesterday at The Monday Note, this strategy (or lack of a strategy) is turning out to be a slow-motion train wreck. As author Clayton Christensen described in The Innovator's Dilemma, it is almost impossible to cope with market disruption by making incremental changes, and newspapers are a perfect example. Filloux uses financial results released last week by The Washington Post to make the point. What Should An iPad Newspaper Look Like? News Corp is taking the iPad very seriously as a new way to distribute the news.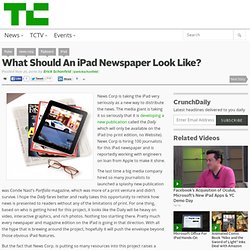 The media giant is taking it so seriously that it is developing a new publication called the Daily which will only be available on the iPad (no print edition, no Website). News Corp is hiring 100 journalists for this iPad newspaper and is reportedly working with engineers on loan from Apple to make it shine. The last time a big media company hired so many journalists to launched a splashy new publication was Conde Nast's Portfolio magazine, which was more of a print venture and didn't survive. I hope the Daily fares better and really takes this opportunity to rethink how news is presented to readers without any of the limitations of print. For one thing, based on who is getting hired for this project, it looks like the Daily will be heavy on video, interactive graphics, and rich photos.
Tablet-publishing: de stand van zaken (deel 1) | Publishr. In veel jaarlijstjes wordt de iPad als belangrijkste mediatrend van 2010 gezien.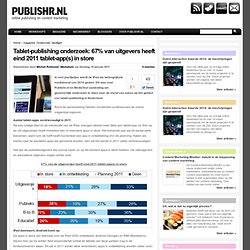 Dit was voor Publishr.nl en MediaTest aanleiding om gezamenlijk onderzoek te doen naar de stand van zaken op het gebied van tablet-publishing in Nederland. Rond de jaarwisseling hebben honderden professionals de online vragenlijst ingevuld. Aantal tablet-apps verdrievoudigt in 2011 Na een rustige start bij de introductie van de iPad, brengen steeds meer titels een tablet-app uit. Do you trust Apple's App Store with the future of 'print'? Richard Branson and Rupert Murdoch have begun battling it out to create a superior subscription-based magazine in the iPad iPublishing 3.0 race, but Apple's [AAPL] recent move to ban an iOS magazine dedicated to the competing Android smartphone OS shows that Apple's app store approvals team could begin an age of censorship...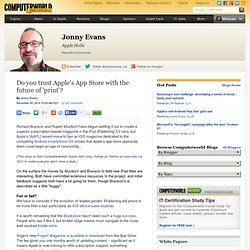 [This story is from Computerworld's Apple Holic blog. Follow on Twitter or subscribe via RSS to make sure you don't miss a beat.] iPad apps – still more dash than cash. iPad publishing: Why the real challenge is the competition for attention | Technology. There's optimism but a lack of confidence in the news industry when it comes to exploiting the iPad, as I wrote yesterday.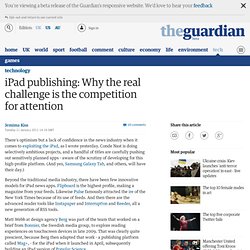 Conde Nast is doing selectively ambitious projects, and a handful of titles are carefully pushing out sensitively planned apps - aware of the scrutiny of developing for this high-profile platform. (And yes, Samsung Galaxy Tab, and others, will have their day.) Beyond the traditional media industry, there have been few innovative models for iPad news apps. Flipboard is the highest profile, making a magazine from your feeds. Content This Week: Tabletapalooza. By Sam Martin - January 4, 2011 Magazine publishers are sure that 2011 is the year of the tablet.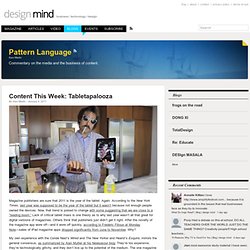 Again. The future of publishing: E-publish or perish. The future of tablet fixation. iPad publishing: time to switch to v2.0. There is no way around this fact: the first batch of magazines adapted to the iPad failed to deliver.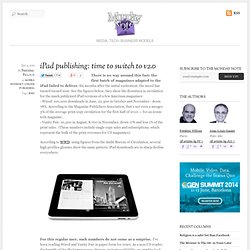 Six months after the initial excitement, the mood has turned turned sour. See the figures below, they show the downturn in circulation for the much publicized iPad versions of a few American magazines: - Wired: 100,000 downloads in June, 22,500 in October and November : down 78%. According to the Magazine Publishers Association, that's not even a meager 3% of the average print copy circulation for the first half of 2010 — for an iconic tech magazine… - Vanity Fair: 10,500 in August, 8,700 in November, down 17% and less 1% of the print sales.
(These numbers include single copy sales and subscriptions, which represent the bulk of the print revenues for US magazines). According to WWD, using figures from the Audit Bureau of Circulation, several high profiles glossies show the same pattern: iPad downloads are in sharp decline everywhere. Measuring Measures - Measuring Measures - Why the iPad is Destroying the Future of Journalism. Being in debt is a terrifying experience.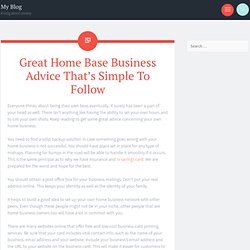 Unfortunately, this problem is difficult to fix, fixing it can be hard.The piece that follows does offer some pointers on what to do regarding bankruptcy if your burden becomes to much to bear. Be certain you understand all you can about bankruptcy by using online resources. Department of Justice and American Bankruptcy Attorneys provide free advice. De ondergang van het digitale tijdschrift – hoe digitaal uitgeven dwingt tot innoveren « Digital Native. Afgelopen week werd bekend dat de verkoop van tijdschriften voor de iPad sterk is gedaald.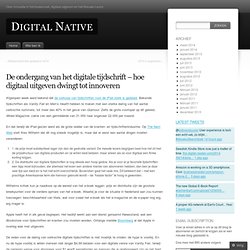 Bekende tijdschriften als Vanity Fair en Men's Health hebben te maken met een sterke daling van het aantal verkochte nummers, tot meer dan 40% in het geval van Glamour. Zelfs de grote voorloper op dit gebied, Wired Magazine, zakte van een gemiddelde van 31.000 naar ongeveer 22.000 per maand. 1 jaar na introductie: Nederlandse markt digitaal lezen groeit harder dan VS | Publishr. Toen we een jaar geleden digitaal lezen introduceerden in Nederland rekenden we op een succes, maar niet op de verkoopaantallen die we een jaar later zien.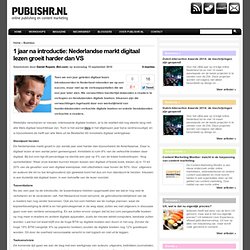 We verwachtten toentertijd duizenden e-readers te verkopen en tienduizenden digitale boeken. Intussen zijn die verwachtingen ingehaald door een werkelijkheid van honderdduizenden verkochte digitale boeken en enkele tienduizenden verkochte e-readers. Wekelijks verschijnen er nieuwe, interessante digitale boeken, al is de realiteit dat nog steeds lang niet alle titels digitaal beschikbaar zijn. Toch is het aantal titels in het afgelopen jaar bijna verdrievoudigd, en is bijvoorbeeld de helft van alle titels uit de Bestseller 60 inmiddels digitaal verkrijgbaar. Are Magazine iPad Apps Profitable in the Long Haul? Magazine editors and publishers are excited about tablet devices like the iPad. In them, they see a chance to give consumers the best that digital media can offer — and to be able to charge them for the content. But does the profit from the apps justify the expense of building and marketing them? What If the iPad Magazine is Already Obsolete? Ever since the iPad was announced, there has been no end of talk about how it and other tablets represent the future of magazines.
As it turns out, this is now partly true. Magazines, in the form of apps, are plentiful on the iPad, and if nothing else, they're certainly a new way to experience a magazine. The 7″-9″ screen is a good size for viewing mixed content and the touch screen makes scrolling through a magazine feel familiar and obvious, yet still novel. Is there any chance that the iPad can save certain premium magazines and/or newspapers. What are the most innovative books and/or magazine apps on the iPad.
---