Presidential Information
Get flash to fully experience Pearltrees
The USA PATRIOT Act (commonly known as the Patriot Act ) is an Act of the U.S. Congress that was signed into law by President George W. Bush on October 26, 2001. The title of the act is a ten letter backronym (USA PATRIOT) that stands for Uniting (and) Strengthening America (by) Providing Appropriate Tools Required (to) Intercept (and) Obstruct Terrorism Act of 2001. [ 1 ] The act, as a response to the terrorist attacks of September 11th , significantly reduced restrictions in law enforcement agencies' gathering of intelligence within the United States; expanded the Secretary of the Treasury's authority to regulate financial transactions, particularly those involving foreign individuals and entities; and broadened the discretion of law enforcement and immigration authorities in detaining and deporting immigrants suspected of terrorism-related acts.
Cloud computing is a gold mine for the U.S. tech industry, but American firms are encountering resistance from an unexpected enemy overseas: the PATRIOT Act. The Sept. 11-era law was supposed to help the intelligence community gather data on suspected terrorists. But competitors overseas are using it as a way to discourage foreign countries from signing on with U.S. cloud computing providers like Google and Microsoft: Put your data on a U.S.-based cloud, they warn, and you may just put it in the hands of the U.S. government.
A grim report prepared by France's General Directorate for External Security ( DGSE ) obtained by Russia's Foreign Intelligence Service ( SVR ) states that president's Obama and Sarkozy have "agreed in principal" to create a joint US-European military force to deal exclusively with a Global uprising expected this spring as our World runs out of food. According to this report, Sarkozy, as head of the G-20 group of developed Nations, called for and received an emergency meeting with Obama this past Monday at the White House wherein he warned his American counterpart that the shock rise in food prices occurring due to an unprecedented series of disasters was threatening the stability of the entire World and could lead to the outbreak of Total Global War .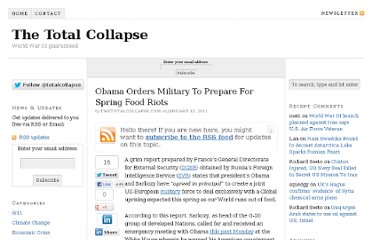 (Before It's News) December 11, 2011 Obama Orders 'Arctic Death Camps' Built To Hold American Traitors
Presidential Bills, Acts, & Executive Orders