Makeup
15 Easy Hacks For Perfect Eyeliner. AN EYE FOR GLITTER. Photos + sponsored post by amy nadine, graphic design by eunice chun It's hard to walk the line with glitter… it's way too fun to pass up, but we don't want to end up looking like Vegas showgirls when we're just going out to dinner!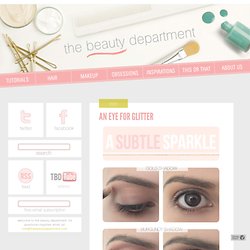 Here's the perfect balance to dress up your eyes in a chic + effortless fashion. TOOLS: gold + burgundy powder eye shadows, glitter cream shadow, black liquid liner, your favorite mascara, black kajal liner, a crease brush, a medium flat-head brush. With the crease brush, apply the light gold shadow just above your crease all the way up to your brow bone. D.I.Y. YUMMY LIP. Photos + post by amy nadine, graphic design by eunice chun I didn't invent this delicious lip stain from heaven, but thought with Labor Day weekend around the corner, what a perfect time to remind you of it!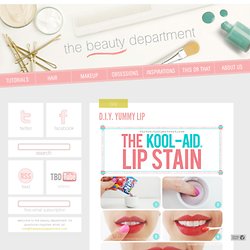 When you're throwing your barbeque, don't forget Kool-Aid's REAL purpose… to stain your lips of course! It really does work and last. Makeup 101- Basic Makeup Techniques « Makeup Geek – Tips, Video Tutorials, Reviews, & More! 25 Creative Uses of Cosmetics. Breaking Down Beauty: Fixing Broken Powder Cosmetics « Painted Ladies. By Sheila Arkee So, you have a favorite eyeshadow, pressed powder, or blush you absolutely cannot live without.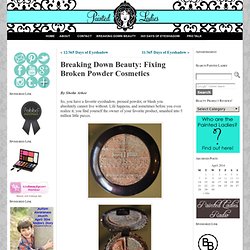 Life happens, and sometimes before you even realize it, you find yourself the owner of your favorite product, smashed into 5 million little pieces. When your powder cosmetics are broken into 5 million pieces, you can always put them in a small container and use as a loose shadow, but you DO have the option of fixing the products so it's almost as good as new. It's easy!
Trend: Rainbow Eyes. Love color?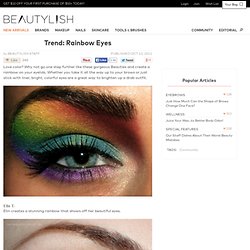 Why not go one step further like these gorgeous Beauties and create a rainbow on your eyelids. Whether you take it all the way up to your brows or just stick with liner, bright, colorful eyes are a great way to brighten up a drab outfit. Elin T. Elin creates a stunning rainbow that shows off her beautiful eyes. Makeup Mon...errr Tuesday: Green Eyes. First, I know it's Tuesday and I'm predictably late with Makeup Monday.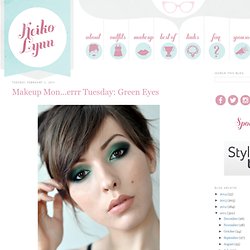 I hope the lack of alliteration doesn't detract from the post; I promise that I have lots of great excuses for not putting this up yesterday. Or, I fell asleep. Antique MAC pigment look | Idea Gallery. Yikes, your browser doesn't support JavaScript or it's disabled.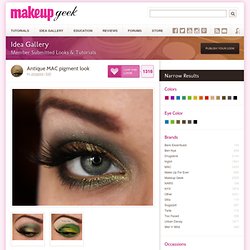 Please be aware that certain functionality will be missing and some aspects of the site may be broken. Idea Gallery.
---