Jobs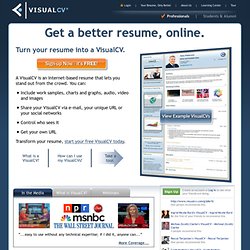 "...easy to use without any technical expertise; if I did it, anyone can..." More Coverage... Watch this two-minute video to learn about VisualCV and how it can help you today. Watch full size video here... Tune into the latest VisualCV webinars to learn how to get more out of VisualCV.com.
Profils de fonction WEB
WebShaker: The Shaker
Retrouvez ici des annonces pour des jobs dans le web, l'IT, le journalisme web, la communication digitale… enfin des annonces en lien avec tout ce dont je parle sur ce blog. Community manager (20/03/12) White Night , la chaîne de magasins de nuit sur Bruxelles et les environs, cherche à agrandir son équipe, pour développer son marketing interactif et animer sa communauté. Personnellement, j'ai toujours bien aimé cette chaîne car on y trouve des produits qu'on trouve rarement dans un nightshop normal. Pour ce qui est du job, l'ambiance des White Night est souvent très sympa.
Emploi Web