Jobs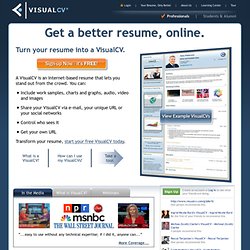 "...easy to use without any technical expertise; if I did it, anyone can..." More Coverage... Watch this two-minute video to learn about VisualCV and how it can help you today. Watch full size video here... Tune into the latest VisualCV webinars to learn how to get more out of VisualCV.com.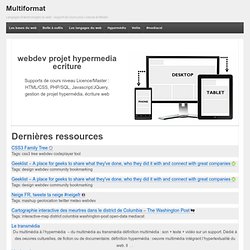 CSS3 Family Tree Tags: css3 tree webdev codeplayer tool Geeklist – A place for geeks to share what they've done, who they did it with and connect with great companies Tags: design webdev community bookmarking
Profils de fonction WEB
Kinzaa lets you build visually stunning infographic resumes. Build your infographic resume It takes under 3 minutes Recent blog posts What is an Infographic resume?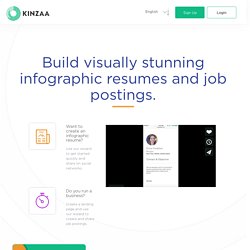 WebShaker: The Shaker
Retrouvez ici des annonces pour des jobs dans le web, l'IT, le journalisme web, la communication digitale… enfin des annonces en lien avec tout ce dont je parle sur ce blog. Protection International cherche un bon développeur, inventif, freelance ou 1/3 temps max mi-temps, qui sait jongler avec du wordpress mais qui n'aurait pas peur de se frotter à du django ou du ruby on rails, pour un but noble (soutien aux défenseurs des droits humains). La description du job étant très très longue, je vous invite à la découvrir directement sur leur site. D'ailleurs à la vue de la longueur de l'annonce, des pré-requis et des missions, je me demande si le candidat existe encore : il faut être développeur multi-langages, trilingue, graphiste, community manager… mais en même temps je peux comprendre que ce genre d'association essaye de trouver un oiseau rare car elle ne doit pas avoir un budget extravagant. Bonne chance à eux.
Emploi Web