Architecture
ΑΡΧΙΤΕΚΤΟΝΙΚΗ / ΜΗΧΑΝΙΚΗ
Details Written by Administrator Ανάπλαση της σπουδαίας Zaha Hadid Το αρχιτεκτονικό γραφείο της παγκοσμίου φήμης αρχιτέκτονος ZAHA HADID έχει αναλάβει την ανάπλαση της πλατείας Ελευθερίας στην Κύπρο . διαβάστε περισσότερα Written by Άννα Βενεδίκη
David Chipperfield Architects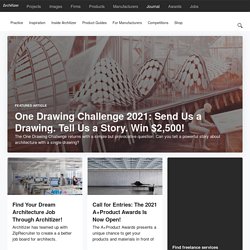 Photo: Saatchi Gallery Way to go, James Turrell. Three museums are staging retrospectives of the legendary artist's work this year: LACMA (May 26-April 6); the Museum of Fine Arts in Houston (June 9-September 22); and the Guggenheim in NYC (June 21-September 25). Known for his mind-bending manipulations of light and space, the 70-year-old Turrell has designed installations of varying scales across the globe.
10 Spectacular Creations By James Turrell, The Ultimate Manipulator Of Light And Space
Mathematical and Generative Graphics • subblue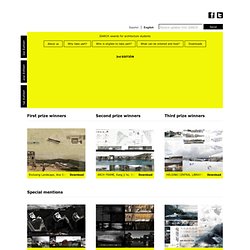 Projects gallery | IS ARCH
Download "Inside in Outside, Public Space": Design a Place for Appearance of Individual/Social Needs in Public Space, Mahlegha Asayesh. Download 20k Leagues Under the Sea, Kyle Reckling, Kevin Jele. Download 3 x 3, Giovanni Fruttaldo, Belen Gandara, Rossi Kirilova, Tanita Choudhury. Download A place for childhood, Alejandro Campos Uribe. Download ABOVE Besós River, Carla Figueras Pérez. Download ACUMULATE, Raquel Ruiz Garcia, Emily Sato, Pedro Alban, Livia Lima, Daila Araujo.
The Hunchback of Notre Dame by Victor Hugo: Chapter II. This Will Kill That.
Our lady readers will pardon us if we pause for a moment to seek what could have been the thought concealed beneath those enigmatic words of the archdeacon: "This will kill that. The book will kill the edifice." To our mind, this thought had two faces. In the first place, it was a priestly thought.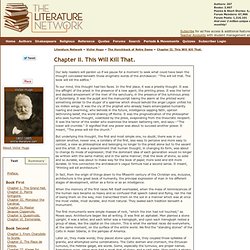 Zvi Hecker | architect | berlin
Ένας κόσμος από αγάλματα στα έγκατα της θάλασσας - Τέχνες - Entertainment
Οι καλλιτεχνικές ανησυχίες του Βρετανού Jason de Caires Taylor ξεπερνούν την κοινή φαντασία. Ο ευρηματικός καλλιτέχνης έχει φιλοξενήσει εκατοντάδες γλυπτά, κυρίως ομοιώματα ανθρώπων σε φυσικό μέγεθος, τα οποία και έχει βυθίσει στον πυθμένα της θάλασσας στις περιοχές της Γρενάδας, του Μεξικού και των Δυτικών Ινδιών. Το πιο ενδιαφέρον της υπόθεσης είναι ότι δεν πρόκειται για γλυπτά που απλά τοποθετήθηκαν κάτω από τη θάλασσα.
ArchDaily | Broadcasting Architecture Worldwide
This article by Marc Kristal from Metropolis Magazine, originally titled "Digital Details," looks at the work of NRI, a New York company that is leading the way when it comes to 3D Printing (or rather, additive manufacturing) – finding that there is a craft in these machine-produced models after all. First things first: The term "3-D printing" is a misnomer according to Arthur Young-Spivey, the digital fabrication specialist at NRI—a 116-year-old, New York–headquartered supplier of reprographic services to architects and their tradespeople. "The correct term is 'additive manufacturing,'" he explains. "People call it 3-D printing because it enables you to wrap your head around it, but in some ways it's confusing." Young-Spivey has a point, as the process by which a digital file is converted into an object isn't "printing" in the commonly understood sense of applying pigment on a substrate.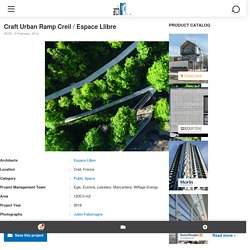 London's 19 Greek Street gallery has a bold new look. The six-floor Soho townhouse is currently dressed in a colourful frock of textiles from Danish textile giant Kvadrat for the duration of the London Design Festival. Conceived by German product designer Werner Aisslinger in collaboration with the gallery, the installation - titled 'Architecture, Re-imagined' - challenges the notion of architecture uniformity while looking at the idea of up-cycling, posing the question, 'what if buildings could wear temporary facades like outfits?'. The installation ties in neatly with Nina Tolstrup's 'Re-imagined' furniture collection that is on show inside the gallery, for which fabrics are used to dress up recycled furniture. via wallpaper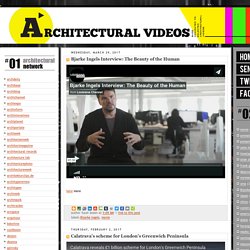 architectural videos*
Architect Magazine: Architectural Design | Architect Online: A premier site for Architecture Industry News & Building Resources
architecture online - arcspace is an architecture and design magazine that features today's most creative projects as well as the most influential of the past.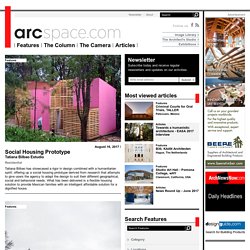 Articles April 04, 2014 / Touring the World of Architecture: Week 14 It's week 14 already! Touring the World of Architecture is here to inform you of this week's biggest and best news. Zaha Hadid Architects have revealed their Macau hotel design, DUS Architects are causing a stir with their 3D printer in Amsterdam and there is a fantastic new architecture school in the pipeline in Dubai.
Η πρώτη διαδικτυακή εκδήλωση για πράσινες στέγες είναι γεγονός! Οργανώθηκε από τα greenroofs.gr στις 6/6/11 στην Θεσσαλονίκη και με την υποστήριξη της Entelia Informatics μεταδώθηκε ζωντανά με videostreaming στο web. Τρείς κορυφαίες εταιρείες στον χώρο των πράσινων στεγών, παρουσίασαν το έργο τους, μίλησαν για την τεχνολογία των πράσινων στεγών, απάντησαν σε πολλές ερωτήσεις και κυρίως έδωσαν έμπνευση και ελπίδα.
Greenroofs.gr | Πράσινες στέγες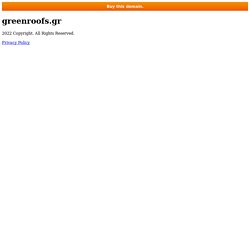 FLETCHER STUDIO Landscape Architecture + Urban Design
Landscape Design Partnership - Garden and Landscape Architure: Creating a living space
Ελληνικό Ινστιτούτο Αρχιτεκτονικής
Ενημέρωση 12-04-2014 - ArchiTravel goes to Singapore and Malaysia - To ArchiTravel επιστρέφει με μία αρχιτεκτονική εκδρομή στη Singapore και στην Kuala Lumpur με αφορμή το World Architecture Festival. (30/09-08/10/2014) 12-04-2014 - River Champagne Bar - Διεθνής Ανοιχτός Διαγωνισμός με θέμα το σχεδιασμό ενός Champagne Bar κατά μήκος του ποταμού "Σηκουάνα". (συμμετοχή έως 3 Ιουλίου 2014) 12-04-2014 - Μικρές ουτοπίες - Η ιταλική αρχιτεκτονική της τρίτης χιλιετίας μεταξύ ιστορίας, έρευνας και καινοτομίας (Αθήνα, Τετάρτη 7 Μαΐου)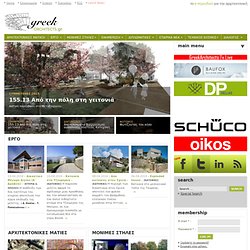 e-περιοδικό για την αρχιτεκτονική
High Tech Modern Architecture 03 - Topics - ArchitectureWeek Online Library
Art on the Web: Architecture Links
architecture
Luis Barragán and Post-War Mexico City
Your connection with architecture: stories, projects, products, materials, companies, people, 3D Models
arch-library by buscando la aurora
Latest Products Portable Air Tank 5 Gallon, 125 max PSI Air Tank used to either hold lots of air, or hold lots of vacuum. We generally use this to hold a vacuum for picking and placing. Read more.
Build Your Own CNC Router Machine
Σschool of architecture n.t.u.a.