Social Strategy
5 Ways to Use Twitter to Connect With Local Customers. Does your business rely on local customers?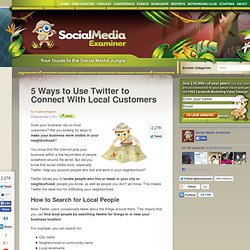 Are you looking for ways to make your business more visible in your neighborhood? You know that the Internet puts your business within a few keystrokes of people anywhere around the world. But did you know that social media tools, especially Twitter, help you pinpoint people who live and work in your neighborhood? Twitter allows you to locate people who live or tweet in your city or neighborhood, people you know, as well as people you don't yet know. This makes Twitter the ideal tool for infiltrating your neighborhood. Facebook's 'Like' button becomes force in e-commerce. Posted: 05/02/2012 10:35:42 PM PDT0 Comments|Updated: about a year ago Congratulations!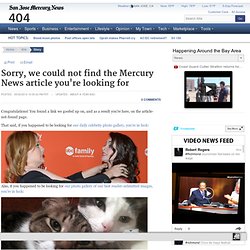 You found a link we goofed up on, and as a result you're here, on the article-not-found page. That said, if you happened to be looking for our daily celebrity photo gallery, you're in luck: Also, if you happened to be looking for our photo gallery of our best reader-submitted images, you're in luck: So, yeah, sorry, we could not find the Mercury News article you're looking for. S May 2011 Trend Briefing covering THE F-FACTOR. The INTERNET OF CARING THINGS means connected objects that serve consumers' most important needs: physical and mental wellbeing, safety, security, oversight of loved ones, and more.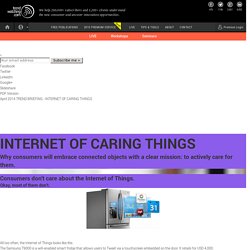 You're probably already familiar with the innovations that have blazed an early CARING trail. The Nest smart thermostat*, NIKE fuelband and Fitbit, for example. Interrupt Users to Increase their Adoption and Engagement. You want someone to use your product, then get in their face and force them to.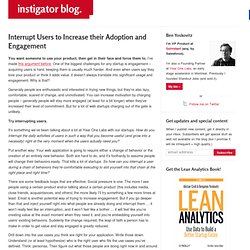 I've made this argument before. One of the biggest challenges for any startup is engagement – acquiring users is hard, keeping them is usually much harder. What to Consider When Building an In-House Social Media Team. The Social Media Marketing Series is supported by Webtrends Apps, which lets you quickly create and publish Facebook, iPhone, iPad and Android apps.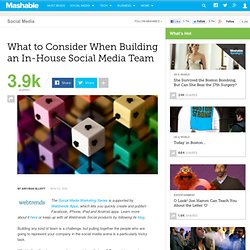 Learn more about it here or keep up with all Webtrends Social products by following its blog. Building any kind of team is a challenge, but pulling together the people who are going to represent your company in the social media arena is a particularly tricky task. What is the ultimate purpose of your social media team? Understanding How and Why Facebook Users Interact with Brands. This post originally appeared on the American Express OPEN Forum, where Mashable regularly contributes articles about leveraging social media and technology in small business.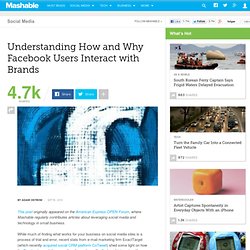 While much of finding what works for your business on social media sites is a process of trial and error, recent stats from e-mail marketing firm ExactTarget (which recently acquired social CRM platform CoTweet) shed some light on how the Facebook population uses the site, and specifically, how it interacts with brands. First, the good news: Based on its study of 1,500 Facebook users, ExactTarget concluded that 38% of online U.S. consumers "Like" (formerly "Fan") a brand on the social networking site. The Evolving Role Of Community And Social Media Managers. Community management is not new.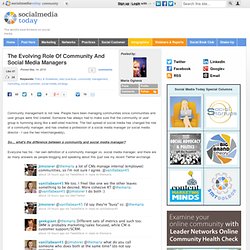 People have been managing communities since communities and user groups were first created. Someone has always had to make sure that the community or user group is humming along like a well-oiled machine. The fast spread of social media has changed the role of a community manager, and has created a profession of a social media manager (or social media director - I use the two interchangeably). So... what's the difference between a community and social media manager? Everyone has his / her own definition of a community manager vs. social media manager, and there are as many answers as people blogging and speaking about this (just see my recent Twitter exchange below)
How to tell if your Company is Advanced: 10 Criteria Of Social Business Maturity. Excited about your new Facebook page but don't know what's next?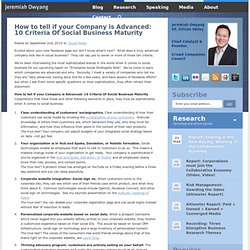 What does a truly advanced company look like in social business? They can say yes to seven or more of these ten criteria. We've been interviewing the most sophisticated brands in the world when it comes to social business for our upcoming report on "Enterprise Social Strategists Role". 13 Business Books That Will Blow Your Mind. Having never taken a business class in college I find that I read and listen to a lot of business books to round out my education.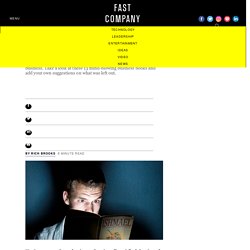 The books usually aren't "How to Manage Your Cash Flow" but rather get me to rethink the way I run my business, which--despite no business classes or diploma--continues to be in business 13 plus years after I started it. In that time, here are 13 of the books that had the biggest impact on how I run my business (in no particular order): Drive: The Surprising Truth About What Motivates Us by Daniel Pink: If you supervise anyone in your business, this book is a must read.
It shows that what science knows about motivation, business isn't putting into practice. Technology Review: Radical Opacity. In shadows: Christopher Poole is the creator of 4chan, an online message board where anonymity reigns.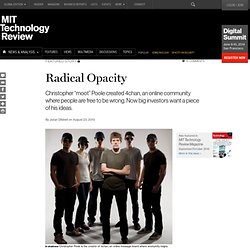 Christopher Poole is 22 years old, and as is often true for men his age, his mental life has been punctuated by a series of passing enthusiasms: video games, online chat rooms, Japanese animation. Currently he seems to be going through a Robert Moses phase. Youtube Marketing Stats: Could Video Be the Missing Tabasco in Your Marketing Bloody Mary? : Social Media Marketing NYC Explains How IPhone App Developers Screw You. Advertising does not work. It doesn't. If you've ever spent $50,000 on a media blitz, you'll agree with me. "If it works for Coke, it'll work for us," are the most famous last words I've heard from many corporate executives before launching a massive ad campaign and subsequently filing chapter 11. It's even worse when you spend a couple hundred thousand with the New Jersey Nets and plaster your name (@GaryVee) all over a billboard ad to hear pins drop and crickets chirp – only, not both at the same time.
The real problem is that inexperienced marketing executives and even Ivy B-Schools work off the logic that "since Coke has been doing this for a hundred years and is a success, they must know what they are doing." The real life Like @ coca-cola Village. Mark Greenfield - Higher Education Web Consulting » The Fate of Communications Services in Universities.
I rarely allow guest posts on this blog but today I am making an exception. Pat Lynch is someone who I have followed for many years and someone I deeply respect. His book "Web Style Guide", co-authored with Sarah Horton, was one of the first web books I ever purchased and I still refer to it on a regular basis. Pat has shared with me his thoughts on the recent conversations on the future of higher education web development (see "When the Axe Man Cometh" on uwebd). His historical perspective on the future of university web services departments provides sage advice for us all. How I Sold a Blog for $20,000 in 8 Months | Blog Tyrant. By: Ramsay | 102 intelligent opinions, add yours So you want to sell a blog? In my first year of University I sold my blog for almost $20,000 after only eight months work.
The Science of Sharing. In 2001, grad student Jonah Peretti accidentally created an Internet sensation when e-mails of his attempts to put "sweatshop" on sneakers customized with Nike ID went viral. In 2005, he set out to repeat his unexpected success with far different content: Black People Love Us, a parody site of a quintessentially white couple's efforts to ingratiate themselves with African Americans. It also became a viral hit. This convinced Peretti that the "mysterious" world of viral content can be broken down and made somewhat predictable. He went on to found content-sharing platform BuzzFeed in 2006 on the proposition that science can be applied to content creation to up the chances of viral appeal. Page-view PR. It's no secret that information is exploding, but just how much may shock you. Americans consume 100,500 words a day, according to a study by the University of California at San Diego – and that doesn't include any information at work.
What's worse, as more content is digested digitally, we now scan and skim. Usability expert Jakob Nielsen found that on the average web page users read at most 28% of the words. Six Digital Trends To Watch by Steve Rubel and David Armano.
---