treats
Get flash to fully experience Pearltrees
Call me easily amused, but these little torch-topped cupcakes delight me.
78 people like this article Click a Star to Rate This Recipe
Last Saturday was my darling Jocelyn's birthday and you just know I wasn't going to even think about showing up without birthday cake. Fortunately, just about everyone we know agrees that two of the best desserts on earth are cannolis from Venieros on First Avenue and homemade tiramisu. I was actually kind of obsessed with figuring out a way to make a cannoli cake, but in the end copped out, not feeling daring enough to invent a recipe and having waited until the very last minute (3 p.m.) to actually start baking.
When I first saw this recipe on the homepage of marthastewart.com last month, my first thought was "ooh, how perfectly fall!" but then a second later, "wait, this can't be right." I mean, chocolate and pumpkin together? I have to admit, it sounds off to me. In my overly-analytical head, pumpkin goes with nutmeg and cinnamon and ground ginger and pecans and bourbon and cream cheese and gingersnaps; chocolate, however, goes with a whole different slew of things, like scraped vanilla beans and walnuts or mint or peanut butter or cream cheese and maybe occasionally some chipotle powder.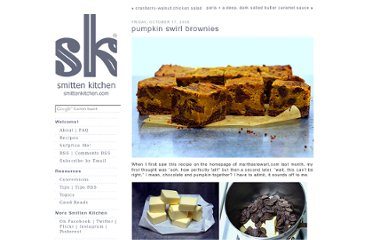 There is a certain kind of cake so ubiquitous in grocery store checkout lanes, beneath lottery-stickered counters in bodegas and beckoning to office workers in a 3 p.m. slump through vending machine window and so lodged in American nostalgia that I am always surprised that more people don't make it at home. I'm talking about a Ding Dong . Or a King Don.
Oh, people. I know you're pumpkin-ed out and it is not even Thanksgiving yet. But if there could be room in your gullet for one more pumpkin love — perhaps even as a last minute, the-heck-with-pie, Hail Mary pass of a Thanksgiving meal dessert — I think that these wee cakes are a worthy cause. So many pumpkin cakes and loaves and muffins are heavy, playing off the dense qualities of pureed squash, and the deep, warm spices we like to eat them with.
I seem to be on a bit of a coffee kick these days — Exhibit A being Alex's Espresso Chiffon birthday cake with Fudge Frosting and Exhibit B being Thanksgiving's ridiculous Cappucino Fudge Cheesecake . I'm sure that's it just coincidence that the coffee kick began just as the number of hours I slept each night decreased, which also coincided with me getting weepy with joy when I wrapped my fingers around my first coffee of the day each morning afternoon . Amazing how you can drink something your whole life but it then all of the sudden one day it becomes a transcendent experience, you know?
Butter 8-inch square baking dish. Whisk first 6 ingredients in medium bowl.
I have never met a variety of deep-fried dough I didn't like. Yet, given that most doughy fried items out there are rather mediocre* — say, the chain donut shop steps from my apartment — I don't find myself indulging this habit as often as I'd like. The exception to this rule is apple cider doughnuts, which I am absolutely weak in the face of. Despite the fact that even the loveliest looking ones at the farm stands tend to disappoint, I eat them anyway. Because it's fall and crunching through ochre-tinted leaves, wrapping your fingers around a paper cup of mulled cider and eating even lackluster apple cider doughnuts is the right and proper thing to do. Or it was.
Seeing as I can't get enough of those I Don't Need A Special Occasion To Make Cake Cakes and also those Of Course You Can Stop By At The Last Minute (psst, 'cause I'd already made some cake) Cakes, I am clearly long overdue to make a classic French yogurt cake. I first learned about yogurt cakes nearly five years ago from Clotilde ; they're perfect anytime-of-day cakes (bless the French for understanding the utmost importance of this), not too sweet, fluffy and perfect just from the oven or wrapped in plastic for a day or two, as the corners soften. Most people don't measure them — the math is based on the volume of your yogurt cups (they use two), to which you add an equal amount of sugar, a double amount of flour, a little less than one of oil, two eggs and some leavener and flavors. Those flavors are usually gentle things, like a bit of lemon zest, or vanilla, a splash of rum or maybe a handful of berries.
I recently got hooked on Le Grand Perdant 2 .