Startup
17 Gründe, warum Facebook gewaltig nervt!
Marketing: Externe Kollaboration
Sie beschäftigen sich mit Marketing? Hier lesen Sie einige Beispiele, wo überall Unternehmen bereits seit Jahren über ihre Grenzen hinaus kollaborieren. Denn Unternehmen fangen bereits heute an, als kollaborative Einheiten zu arbeiten. Outsourcen, externe Dienstleister, Subunternehmen – es gibt viele Bezeichnungen für das kollaborative Arbeiten zwischen Unternehmen. Dienstleistungen, Services, sogar ein gesamtes Produkt werden als Gemeinschaftsarbeit erbracht. Marketing-TrendUnternehmen arbeiten schon längst nicht nur über ihre eigenen Unternehmensgrenzen zusammen, sondern über Regionen und Ländergrenzen hinweg.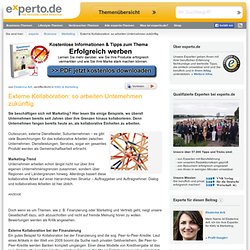 V-Check Finalists | Entrepreneursclub Berlin
The 15th annual $150,000 Harvard Business Plan Contest kicked off at 4:30pm sharp today at Burden Auditorium. HBS students arrived early, decked out in full suits, shaking hands, and offering one another the best of luck. Many darted with anxiety up to the audio visual crew to make certain their slides were in the queue, others hopped on stage for a quick photo opportunity, and some scooted to the basement for last minute pitch run-throughs. One thing rang certain as I sat in the auditorium and took in the precursor to the capstone of Harvard Business School's MBA Entrepreneurship curriculum: Each team was fully prepared to win. And when I heard the pitches, I was even more impressed with the teams and their extraordinary (as in big) ideas. The annual Business Plan contest kicked off this January with 63 teams submitting business plans.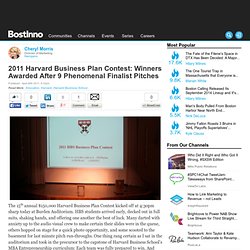 2011 Harvard Business Plan Contest: Winners Awarded After 9 Phenomenal Finalist Pitches | Bostinnovation: Boston Innovation, Start-ups and Tech News