Meaningful Organizations
Faith Community Church / Media / Sermons
Hope Missions - Home
Good Goers: Mission Trips: Family Christian
Bibles : Find Foreign Language Bibles in Over 4000 World Languages
Summer 2014 Volunteer Trip Info is now posted below. We are also currently accepting registrations for Fall 2013 and Winter 2014 trips. Check out pictures from one of our Summer 2013 volunteers. Write to nsalvitti@gmail.com to ask permission for use of these pictures. Join us this summer to see and participate in our work first hand!
Project Esperanza | Summer Volunteer Opportunity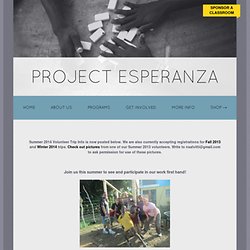 Alliance Ministries / Home
Saves - A clean water initiative from Sawyer Products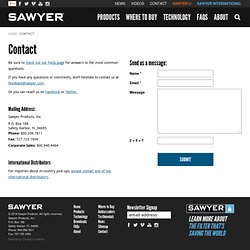 Contact Us We've partnered with more than 100 different organizations in over 70 countries. We'd love to work with your organization, group, or church too! For more information, or if you have any questions or comments, or to order a filter today, please contact us at feedback@sawyer.com. Mailing Address: Sawyer Products P.O. Box 188 Safety Harbor, FL 34695
Good Goers Mission-Based Adventure Travels Good Goers Mission Based Adventure Travels
Tres Dias Con Dios | The Spanish Speaking Incubation Center
Our Vision - To see people in need working and living for the glory of God Our Strategy – Equip Christ-centered churches and organizations through the distribution of Biblically-based tools and materials to prepare individuals for work and life Jobs for Life (JfL) provides turnkey toolkits containing all of the materials needed for churches and organizations to lead a JfL training class, which teaches timeless biblical principles concerning work and the ways those principles are applied in the marketplace. Through this training, men and women develop character and become connected to a community of support to help them obtain far more than just a job.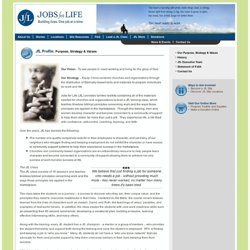 Jobs for Life - Building Lives. One Job at a Time.
Helping Without Hurting
View full sizeThe Birmingham News/Bernard TroncaleDonna Dukes instructs students Lamonica Dean, left, and LaVondria Travis, right, at the Maranatha Academy, a private school that specializes in giving at-risk children and nontraditional students a second chance. BIRMINGHAM, Alabama -- Stories like Patricia Adams-Mauldin's are among the reasons Donna Dukes founded her Maranathan Academy in Birmingham more than 20 years ago. When Adams-Mauldin attended a friend's graduation she had no idea that the day would also become the first toward her own path to success.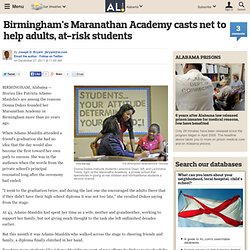 Birmingham's Maranathan Academy casts net to help adults, at-risk students
Here's what you can do with mycharity: water!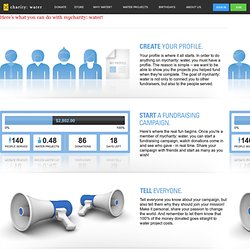 mycharity: water
GFA Home - Gospel for Asia
Forgotten Christmas
New Tribes Mission - My Christian Mission Organization - New Tribes Mission USA
Vapor Sports Ministries
connecting :: Home
Third Millennium Classes, Lessons and Lectures
Campus Crusade for Christ International
Campus Crusade for Christ – The Campus Ministry
Fixed Point Foundation
The God Delusion Debate (Dawkins-Lennox)
The Godless Delusion : Patrick Madrid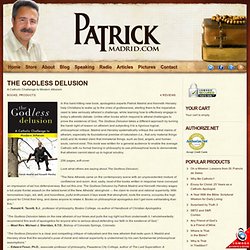 A Catholic Challenge to Modern Atheism In this hard-hitting new book, apologetics experts Patrick Madrid and Kenneth Hensley help Christians to wake up to the crisis of godlessness, alerting them to the imperative need to take seriously atheism's challenge, while learning how to effectively engage in today's atheistic debate. Unlike other books which respond to atheist challenges to prove the existence of God, The Godless Delusion takes a different approach by turning the harsh light of reason on atheism and subjecting it to a rigorous logical, philosophical critique. Madrid and Hensley systematically critique the central claims of atheism, especially its foundational premise of naturalism (i.e., that only material things exist) and its related claim that immaterial things, such as God, angels, and human souls, cannot exist.
Sav-A-Life Pregnancy Resource Center > Home
Volunteers for China
Microfinance a Working Solution to Global Poverty | Opportunity International
Creating Videos to Help You Teach.
The Center For Executive Leadership: Home
Mission Birmingham
The Arc of Shelby County AlabamaWelcome | For people with intellectual and developmental disabilities
Saving Grace for Women - Baldwin County, AL
handonbirmingham.com
servealabama.com: The Leading Serve Alabama Site on the Net