BLOGS
Die ERGO Versicherungsgruppe und die Wall AG wagen eine neuartige Form der Außenwerbung. Seit Dienstag informiert eine Woche lang ein Versicherungsvermittler via Live-Schaltung am Breitscheidplatz Berliner Passanten. Per Skype, Webcam und Mikrofon schaltet sich der Versicherungsvermittler aus dem Büro direkt auf den 19 Zoll-Bildschirm. "Das Besondere an dieser kreativen Sonderumsetzung ist, dass in der Außenwerbung erstmals live Ton und Bild abgerufen werden", sagt Patrick Fischer, Produktmanager Innovate bei WallDecaux Premium Outdoor Sales. "Die Passanten vor Ort können face-to-face ihre Fragen zum Thema Versicherungen stellen, wie zum Beispiel Haftpflicht, Berufsunfähigkeit oder Reiseschutz und mit dem Vermittler in Dialog treten." Die Live-Beratung läuft rund um die Uhr.
Out-of-home Blog - Der Blog rund um das Thema Out of Home Kommunikation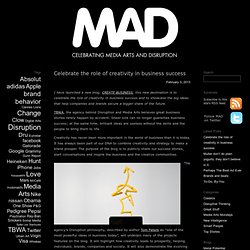 Jean-Marie Dru, Chairman of TBWA\Worldwide, is the Jury President for the first ever Creative Effectiveness Lion at Cannes this month. Here he talks about his role. You've attended Cannes a few times now. How much has it changed?
Lorenzo Fonda, director.
Best practice marketing examples, digital innovation & creative media case studies :: Cream – The Innovation Exchange
Pubblicit? Italia Home Page su Pubblicit? Italia
RVCAloha Grafitti Featuring DMOTE, REMIO and NORM Video Longstanding skate and surf imprint RVCA took to the shores of Hawaii recently for a six-week initative dubbed #RVCAloha. While some of RVCA's most prolific surfers and skater took part, the project also brought together graffiti writers and st... nanamica 2014 Spring GORE-TEX Soutien Collar Coat nanamica presents this GORE-TEX® Soutien Collar Coat from its Spring/Summer 2014 collection. Featuring a cotton shell blended with GORE-TEX, the coat is printed with a blue camo pattern and backed with a nylon liner.