Grannys
Crochet. We're into week two of May and I'm still sticking with this little project.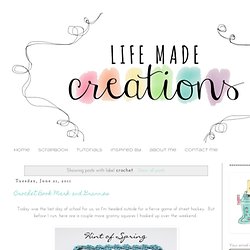 I've been wondering what makes this daily project different than others I've attempted in the past and all I can come up with is "crochet is portable". I can throw it in a bag and bring it to swimming, church, soccer, the doctor's, and on car trips. I bring it outside while the kids are playing, and I throw on another round while I wait for water to boil on the stove. I don't like to be idle for long, and crochet is the perfect thing to while away the minutes. And these blocks whip up really quickly and look beautiful. Crafty Crafty: Free Crafty Crafty Pattern: Jolly Roger skull and crossbone potholder or placemat. Fancy making yourself this crochet skull and crossbone mat?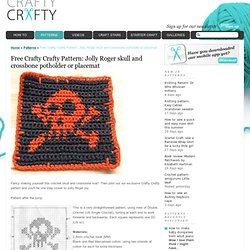 Then print out our exclusive Crafty Crafty pattern and you'll be one step closer to Jolly Roger joy. Pattern after the jump. Carina's Craftblog: Crochet magic ring tutorial. Mmm... happy colours!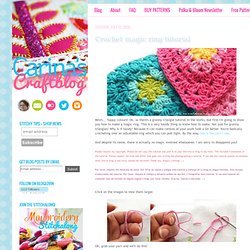 Ok, so there's a granny triangle tutorial in the works, but first I'm going to show you how to make a magic ring. This is a very handy thing to know how to make. Not just for granny triangles! Why is it handy? Because it can make centres of your work look a lot better. Anleitung: Sunburst Flower Granny Square haekeln « Kasa Amend. Geschafft: Meine Foto-Anleitung zum Häkeln der Sunburst Flower Granny Squares für eine dieser tollen Decken, wie sie viele wahrscheinlich von Sandra Juto oder dieser Flickr Group kennen, ist fertig.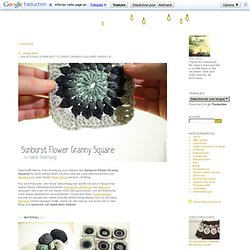 Für eine Freundin, die heute Geburtstag hat, wollte ich schon längst mal meine kleine Übersetzung dieser englischen Anleitung von MaryjoO abtippen. Nun hab ich mir etwas mehr Zeit genommen, um die Anleitung noch etwas detaillierter auszuarbeiten. Dank des tollen Fußauslösers, konnte ich die ganzen Häkel-Schritte selbst fotografieren und da die liebe MaryjoO nichts dagegen hatte, stelle ich das Ganze nun auch hier in den Blog und wünsche viel Spaß beim Häkeln. Wolle: Cool Wool 2000/ Merino Superfein von Lana Grossa (Das aber nur als Info, ihr könnt selbstverständlich auch ganz andere Wolle nehmen.
Granny Spiral. Author PKOlson Introduction Spiraling Granny Square Pattern.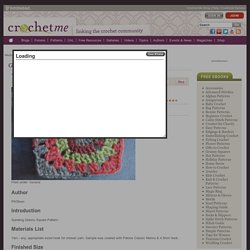 Materials List.
---