Crochet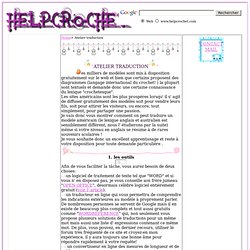 Afin de vous faciliter la tâche, vous aurez besoin de deux choses:
© Photo Carole Ventura L'origine du crochet est incertaine. Les théories s'affrontent sur le fait de savoir s'il est né en Chine -on y trouve très tôt des poupées réalisées au crochet-, au Pérou -on retrouve sa trace en Amérique du Sud où certaines tribus primitives utilisaient des parures au crochet dans les rites de la puberté-, en Tunisie, en Egypte ou au Royame du Danemark.Certains pensent qu'il proviendrait d'Arabie d'où il se serait diffusé vers l'Est jusqu'en Anatolie, dans la région du Pamir, en Ouzbékistan, au Thibet... où il se pratique un art de la chaussette au crochet jacquard connu sous le nom de Jourab, Jurabi ou encore dzhuraby, puis vers l'ouest jusqu'en Espagne.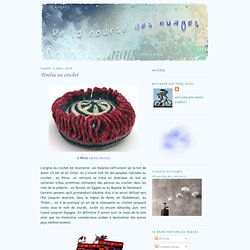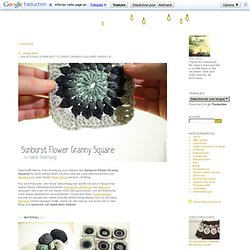 Geschafft: Meine Foto-Anleitung zum Häkeln der Sunburst Flower Granny Squares für eine dieser tollen Decken, wie sie viele wahrscheinlich von Sandra Juto oder dieser Flickr Group kennen, ist fertig.
As promised, here is my pattern for the Basic Granny Square. I didn't invent this pattern in the slightest, (obviously) but I'm going to show you step by step how to make the basic granny square. When I started to learn I couldn't find a pattern that I could understand easily and so I hope to change that by doing one with lots of pictures :-) This is the pattern I used to make the squares for the Granny Alice blanket (above). For this pattern, you will need to know how to chain stitch, and how to make a UK treble (TR) stitch. This is equivalent to the US double (DC) stitch but I will be using the UK terminology for this pattern. If you don't know how to make a TR stitch, have a look HERE.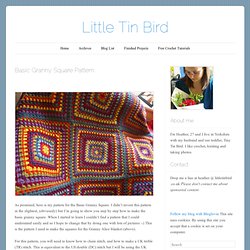 Les augmentations avec le crochet
Univers du crochet • Accueil
Just Plain Fun's Crochet Pattern Directory
Poupées, animaux, doudous
le crochet pour la layette des bebes