Flowers
Flower Pin: Dot Matthews (bythehook) Flower Pin© 11/10/04 Dorothy "Dot" Matthews.
All rights reserved.Originally published at This pattern is intended for personal use only. You may do what you want with the items you make, as long as you give Dot credit as the designer, with the following restrictions: you may not sell your items online and you may not sell to retail or wholesale stores or businesses. Easy Crochet Flower Clip. It only takes a few minutes and a few supplies to make a simple flower crochet clip.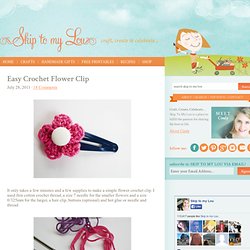 I used thin cotton crochet thread, a size 7 needle for the smaller flowers and a size 0/325mm for the larger, a hair clip, buttons (optional) and hot glue or needle and thread. Crochet Flower Pattern Chain 4, slip stitch in first stitch to make a ring. Working in ring, chain 2, dc, chain 2, slip stitch, makes one petal. Flower - Blue Pansy. This is a vintage pattern that has been re-published here on Craftbits.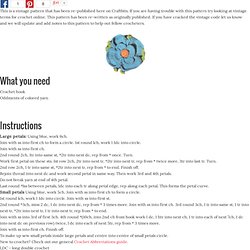 If you are having trouble with this pattern try looking at vintage terms for crochet online. This pattern has been re-written as originally published. If you have cracked the vintage code let us know and we will update and add notes to this pattern to help out fellow crocheters. Another Flower Pattern (6 petals) For those of you who are scared of new stitches, there's no back post single crochet!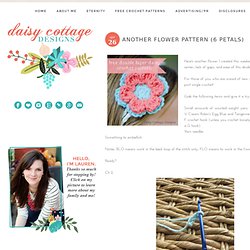 Grab the following items and give it a try: Small amounts of worsted weight yarn, 2 colors (I used Sugar 'n' Cream Robin's Egg Blue and Tangerine) F crochet hook (unless you crochet loosely, then I'd suggest using a G hook) Yarn needles Something to embellish.
---