Javascript/Jquery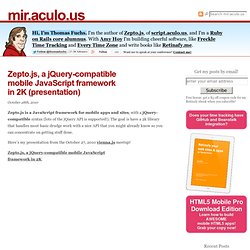 October 28th, 2010 Zepto.js is a JavaScript framework for mobile apps and sites, with a jQuery-compatible syntax (lots of the jQuery API is supported!). The goal is have a 2k library that handles most basic drudge work with a nice API that you might already know so you can concentrate on getting stuff done. Here's my presentation from the October 27, 2010 vienna.js meetup! Links from the presentation: Interesting numbers from the article (library sizes in bytes):
Zepto.js, a jQuery-compatible mobile JavaScript framework in 2K (presentation)
What is JSONLint? JSONLint is a validator and reformatter for JSON, a lightweight data-interchange format. Why 'Lint'? Essentially, I'm just riding on JSLint's coattails. The name 'lint' was originally used to find problems in C source files.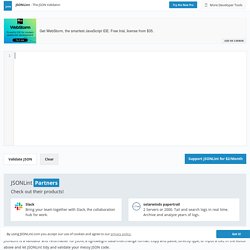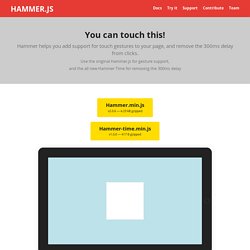 It's small and standalone At only 3kb when gzipped, it is a lightweight and efficient library. No extras you don't need. Hammer doesn't require jQuery or other libraries to work. A jQuery plugin is available though. Supported gestures
Watch the video iPhone, iPad, Android, Blackberry 6 and Desktop all supported. What is it?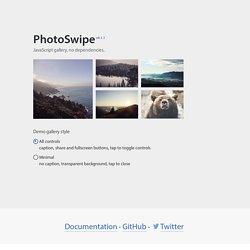 jFormer is a form framework written on top of jQuery that allows you to quickly generate beautiful, standards compliant forms. Leveraging the latest techniques in web design, jFormer helps you create web forms that: Validate client-side Validate server-side Process without changing pages (using AJAX) Download