Physics
Iridium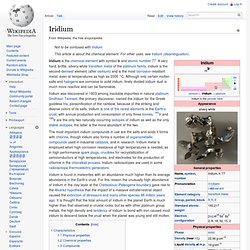 Iridium is the chemical element with symbol Ir and atomic number 77. A very hard, brittle, silvery-white transition metal of the platinum family, iridium is the second-densest element (after osmium) and is the most corrosion-resistant metal, even at temperatures as high as 2000 °C. Although only certain molten salts and halogens are corrosive to solid iridium, finely divided iridium dust is much more reactive and can be flammable.
Technicolor (physics)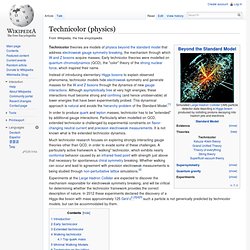 Technicolor theories are models of physics beyond the standard model that address electroweak gauge symmetry breaking, the mechanism through which W and Z bosons acquire masses. Early technicolor theories were modelled on quantum chromodynamics (QCD), the "color" theory of the strong nuclear force, which inspired their name.
In particle physics, color charge is a property of quarks and gluons that is related to the particles' strong interactions in the theory of quantum chromodynamics (QCD).
Color charge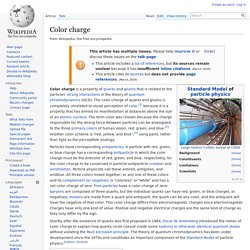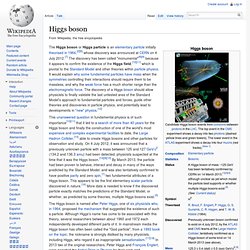 The Higgs boson is named after Peter Higgs, one of six physicists who, in 1964, proposed the mechanism that suggested the existence of such a particle.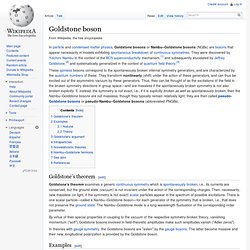 Goldstone boson
In particle and condensed matter physics, Goldstone bosons or Nambu–Goldstone bosons (NGBs) are bosons that appear necessarily in models exhibiting spontaneous breakdown of continuous symmetries. They were discovered by Yoichiro Nambu in the context of the BCS superconductivity mechanism,[1] and subsequently elucidated by Jeffrey Goldstone,[2] and systematically generalized in the context of quantum field theory.[3] Goldstone's theorem[edit]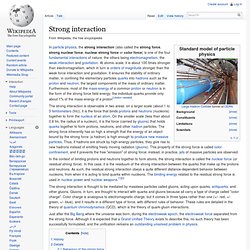 In particle physics, the strong interaction (also called the strong force, strong nuclear force, nuclear strong force or color force) is one of the four fundamental interactions of nature, the others being electromagnetism, the weak interaction and gravitation. At atomic scale, it is about 100 times stronger than electromagnetism, which in turn is orders of magnitude stronger than the weak force interaction and gravitation.
Gluons /ˈɡluːɒnz/ are elementary particles that act as the exchange particles (or gauge bosons) for the strong force between quarks, analogous to the exchange of photons in the electromagnetic force between two charged particles.[6] In technical terms, gluons are vector gauge bosons that mediate strong interactions of quarks in quantum chromodynamics (QCD). Gluons themselves carry the color charge of the strong interaction.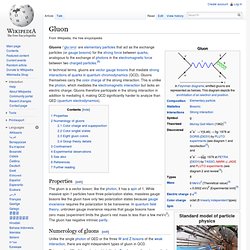 Gluon
Pierre de Fermat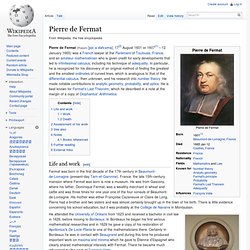 Pierre de Fermat (French: [pjɛːʁ dəfɛʁma]; 17[2] August 1601 or 1607[1] – 12 January 1665) was a French lawyer at the Parlement of Toulouse, France, and an amateur mathematician who is given credit for early developments that led to infinitesimal calculus, including his technique of adequality.
Fundamental theorem of calculus
The fundamental theorem of calculus is a theorem that links the concept of the derivative of a function with the concept of the integral. The first part of the theorem, sometimes called the first fundamental theorem of calculus, is that an indefinite integration[1] can be reversed by a differentiation.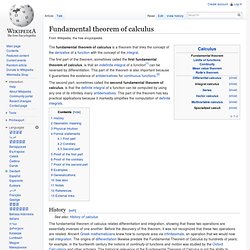 A lepton is an elementary, spin-1⁄2 particle that does not undergo strong interactions, but is subject to the Pauli exclusion principle.[1] The best known of all leptons is the electron, which governs nearly all of chemistry as it is found in atoms and is directly tied to all chemical properties. Two main classes of leptons exist: charged leptons (also known as the electron-like leptons), and neutral leptons (better known as neutrinos). Charged leptons can combine with other particles to form various composite particles such as atoms and positronium, while neutrinos rarely interact with anything, and are consequently rarely observed.
Lepton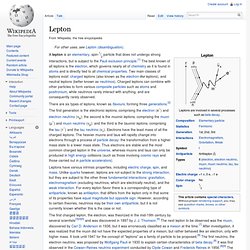 A quark (/ˈkwɔrk/ or /ˈkwɑrk/) is an elementary particle and a fundamental constituent of matter. Quarks combine to form composite particles called hadrons, the most stable of which are protons and neutrons, the components of atomic nuclei.[1] Due to a phenomenon known as color confinement, quarks are never directly observed or found in isolation; they can be found only within hadrons, such as baryons (of which protons and neutrons are examples), and mesons.[2][3] For this reason, much of what is known about quarks has been drawn from observations of the hadrons themselves.
In particle physics, mesons (/ˈmiːzɒnz/ or /ˈmɛzɒnz/) are hadronic subatomic particles composed of one quark and one antiquark, bound together by the strong interaction. Because mesons are composed of sub-particles, they have a physical size, with a radius roughly one femtometre, which is about 2⁄3 the size of a proton or neutron.
Meson