Eastern philosophy
Taijitu
Classic Taoist taijitu of 'fish-like' shape Taijitu ( Traditional Chinese : 太極圖 ; Simplified Chinese : 太极图 ; Wade-Giles : t'ai⁴chi²t'u²; Pinyin : tàijítú; rough English translation: "diagram of ultimate power") is a term which refers to a Chinese symbol for the concept of yin and yang ( Taiji ). It is the universal symbol of the religion known as Taoism and is also often used by non-Taoists to represent the concept of opposites existing in harmony. The taijitu consists of a symmetrical pattern inside a circle. One common pattern has an S-shaped line that divides the circle into two equal parts of different colors.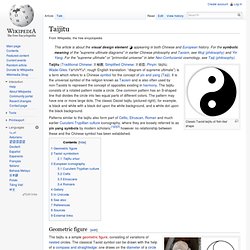 Lojong (Tib. བློ་སྦྱོང་, Wylie : blo sbyong ) is a mind training practice in the Tibetan Buddhist tradition based on a set of aphorisms formulated in Tibet in the 12th century by Geshe Chekhawa . The practice involves refining and purifying one's motivations and attitudes.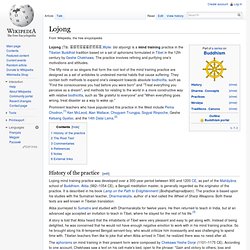 Mushin (無心; Japanese mushin; English translation "no mind" ) is a mental state into which very highly trained martial artists are said to enter during combat . [ citation needed ] They also practice this mental state during everyday activities. The term is shortened from mushin no shin (無心の心), a Zen expression meaning the mind without mind and is also referred to as the state of "no-mindness". That is, a mind not fixed or occupied by thought or emotion and thus open to everything. For the origin of the mushin concept, see Muga-mushin .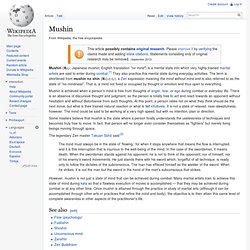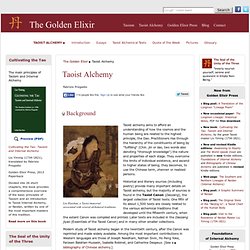 The Golden Elixir ▶ Taoist Alchemy Fabrizio Pregadio Adapted from the unedited ms. of an entry in Encyclopedia of the History of Science, Technology and Medicine in Non-Western Countries , ed. Helaine Selin (Dordrecht, 1996). In China as elsewhere, alchemy is a doctrine aiming to afford an understanding of the principles underlying the formation and functioning of the cosmos.
Neidan and Waidan: Taoist Alchemy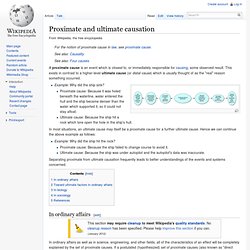 Proximate and ultimate causation
A proximate cause is an event which is closest to, or immediately responsible for causing , some observed result. This exists in contrast to a higher-level ultimate cause (or distal cause ) which is usually thought of as the "real" reason something occurred. Example: Why did the ship sink?