Social Technology Data/Research
New Data: Canadians embrace social technology. By Josh Bernoff Since we published our 2009 Social Technographics Profile update, Canadians have been hounding me.
Why did we leave Canada out? Simply because the Canadian data comes from a different survey, which was not completed in time. Thanks for waiting, Canada. We just published Nate Elliott's 2009 Social Technographics Profile of Canadian consumers (full text and data available to clients). Here's Hard Data for Headlines that Spread on Twitter | Copyblog. Six Million More Seniors Using the Web than Five Years Ago | Nie. Social Media Influencing 28% of Shoppers.
Nearly $16 billion has been spent during the first 36 days of the 2009 holiday shopping season, marking a 3% increase vs. the corresponding days last year, according to new data from comScore, Inc., which also found that 28% of US shoppers say social media has influenced their purchases this year.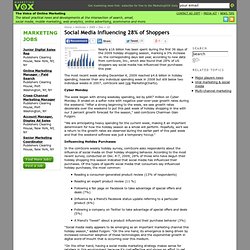 The most recent week ending December 6, 2009 reached $4.6 billion in holiday spending, heavier than any individual spending week in 2008 but still below two individual weeks in 2007, comScore said (via MarketingCharts). Cyber Monday The week began with strong weekday spending, led by $887 million on Cyber Monday. It ended on a softer note with negative year-over-year growth rates during the weekend. Female Consumers Increase Social Networking. A majority of U.S. women use social networking sites, and half of them say social networking sites influence their shopping habits.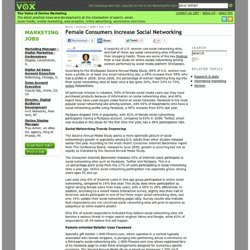 These are some of the key findings from a new study on online socials networking among women performed by social media platform SheSpeaks. According to the SheSpeaks Second Annual Media Study, 86% of U.S. women now have a profile on at least one social networking site, a 48% increase from 58% who had a profile in 2008. Since 2008, the percentage of women reporting they log into their social networking sites at least once a day grew 36%, from 53% to 73%, writes RetailerDaily. Of particular interest to retailers, 50% of female social media users say they have purchased products because of information on social networking sites, and 40% report they have used coupon codes found on social networks.
Newspapers Beat Out Web in Coupon Market, For Now - ClickZ. Douglas Quenqua | December 11, 2009 | 2 Comments inShare0 Internet accounted for only 6 percent of coupons clipped in the last year, though the total value of those coupons was much higher.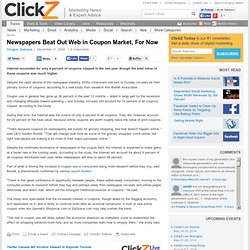 What you can learn from consumers' digital decade. By Josh Bernoff As the decade I call the twenty-oh's ends, think on what a transformational change we have just all witnessed.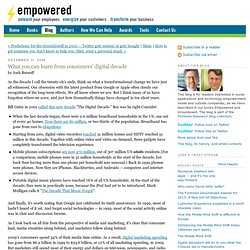 Our obsession with the latest product from Google or Apple often clouds our recognition of the long-term effects. Facebook Keeps Its Cool Among College Students. Social networking in general, and Facebook in particular, may be getting more popular among older users, but that doesn't make the No. 1 US social network any less attractive for college students, according to data from Anderson Analytics.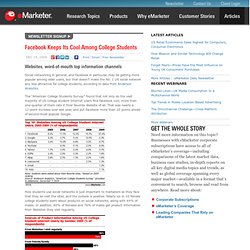 The "American College Students Survey" found that not only do the vast majority of US college student Internet users find Facebook cool, more than one-quarter of them rate it their favorite Website of all. That was nearly a 12-point increase over last year, and put Facebook more than 20 points ahead of second-most-popular Google. How students use social networks is just important to marketers as they face that they do visit the sites, and the outlook is positive. Nearly six in 10 female college students learn about products on social networks, along with 44% of males.
Securing Brand Loyalty Through Relationship Marketing - eMarkete. As consumer packaged goods (CPG) brands lose share to less-expensive store brands, marketers are focusing on methods to secure lifelong brand loyalty in a bid to acquire new customers and retain lifelong customers.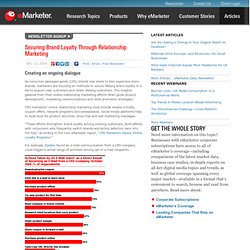 The insights gleaned from their online relationship marketing efforts often guide product development, marketing communications and retail promotion strategies. CPG marketers' online relationship marketing tools include weekly e-mails, coupon offers, rewards programs and sweepstakes. Social media platforms help to build buzz for product launches, drive trial and test marketing messages. NanaBlogs Attracts Web Savvy Seniors. The NanaBlogs, a new online community for grandmothers who want to participate in social networking with other grandmothers as well as blog, is a testament to the growing numbers of seniors, or "matures" on the web.
The idea for NanaBlogs, the brainchild of Teresa Bell Kindred, a retired high school history teacher, author and magazine columnist, came in part from one of Kindred's magazine columns entitled NanaHood: The Second Half of the Motherhood Journey. "I noticed there were lots of quality blogs for moms but sites and blogs for grandmothers were few and far between," she said. The site allows users to create their own blogs, with tutorials and free phone support available for questions. Report: The Most Active Online Are The Most Educated. 16 December '09, 03:05pm Follow People who spend the most time online are in fact the most educated claims a recent report from Eurostat.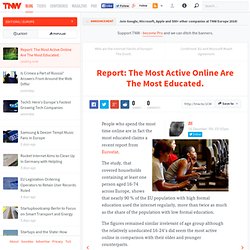 The study, that covered households containing at least one person aged 16-74 across Europe, shows that nearly 90 % of the EU population with high formal education used the internet regularly, more than twice as much as the share of the population with low formal education. Social Media Users Want to Be Heard. While social media users may not find social sites quite as trustworthy as traditional sources of news, according to research from Crowd Science they do see it as an important communications medium—for better and for worse.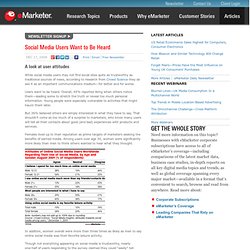 Users want to be heard. Overall, 45% reported liking when others notice them—leading some to stretch the truth or reveal too much personal information. Young people were especially vulnerable to activities that might haunt them later.
---