Google
40 Ways to Use Google Apps in the Classroom
In 2009 our school officially adopted the Google Apps for Education platform.
Google Apps Changed Our Culture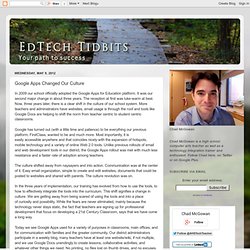 Apps in Ed - Google Docs
Professional blog | 21st Century Educator
May 8, 2012 I just found this presentation from more than a year ago on some interesting ways to use Google Apps in a mathematics classroom. I noticed that it had been edited slightly, so I did some more edits and thought I would share it here.