Google
Google Glass: Sacramento Kings. 40 Ways to Use Google Apps in the Classroom. Google Apps Changed Our Culture. In 2009 our school officially adopted the Google Apps for Education platform.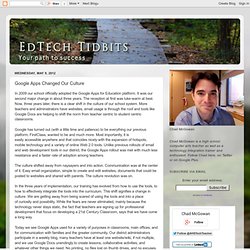 It was our second major change in about three years. The reception at first was luke-warm at best. Now, three years later, there is a clear shift in the culture of our school system. More teachers and administrators have websites, email usage is through the roof and tools like Google Docs are helping to shift the norm from teacher centric to student centric classrooms.
Apps in Ed. Google Sites. Google Calendar. Professional blog | 21st Century Educator. Google Earth. Untitled. iGoogle.
---