Business Tools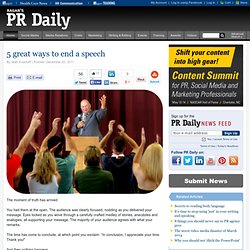 The moment of truth has arrived. You had them at the open. The audience was clearly focused, nodding as you delivered your message. Eyes locked as you wove through a carefully crafted medley of stories, anecdotes and analogies, all supporting your message. The majority of your audience agrees with what your remarks. The time has come to conclude, at which point you exclaim: "In conclusion, I appreciate your time.
5 great ways to end a speech
"Feeling gratitude and not expressing it is like wrapping a present and not giving it." –William Arthur Ward The holiday season generally brings us closer to people.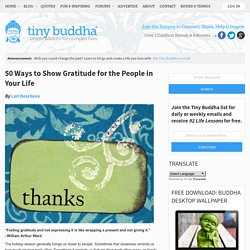 50 Ways to Show Gratitude for the People in Your Life
When I started writing The Spirit War (Eli novel #4), I had a bit of a problem. I had a brand new baby and my life (like every new mother's life) was constantly on the verge of shambles. I paid for a sitter four times a week so I could get some writing time, and I guarded these hours like a mama bear guards her cubs - with ferocity and hiker-mauling violence.
How I Went From Writing 2,000 Words a Day to 10,000 Words a Day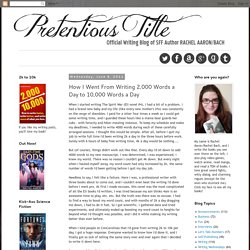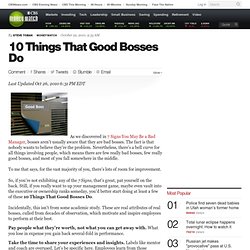 Last Updated Oct 26, 2010 6:31 PM EDT As we discovered in 7 Signs You May Be a Bad Manager, bosses aren't usually aware that they are bad bosses. The fact is that nobody wants to believe they're the problem. Nevertheless, there's a bell curve for all things involving people, which means there are few really bad bosses, few really good bosses, and most of you fall somewhere in the middle. To me that says, for the vast majority of you, there's lots of room for improvement. So, if you're not exhibiting any of the 7 Signs, that's great, pat yourself on the back.
10 Things That Good Bosses Do
Facebook recently changed the way users interact with content on fan pages: any user, including non-fans, can now post on fan page walls and like/comment/share fan page content. In other words, a Facebook user does not have to first like your fan page before they can interact with your content. This is a good thing!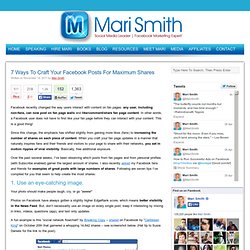 7 Ways To Craft Your Facebook Posts For Maximum Shares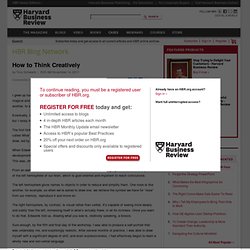 How to Think Creatively - Tony Schwartz
by Tony Schwartz | 8:00 AM November 14, 2011 I grew up hungry to do something creative, to set myself apart. I also believed creativity was magical and genetically encoded. As early as the age of 8, I began sampling the arts, one after another, to see if I'd inherited some gift. Eventually, I became a journalist. For many years, I told other people's stories.
Scott Gerber is a serial entrepreneur, internationally syndicated columnist and TV host, and the founder of the Young Entrepreneur Council.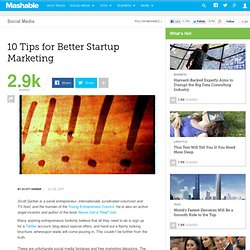 10 Tips for Better Startup Marketing
How to self publish to the Amazon Kindle Store using only free software on Vimeo
This post originally appeared on the American Express OPEN Forum, where Mashable regularly contributes articles about leveraging social media and technology in small business.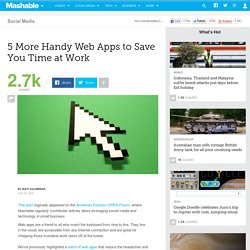 5 More Handy Web Apps to Save You Time at Work
The Ultimate Guide to Facebook Marketing
The Innovation Secret: How to Repeatedly Innovate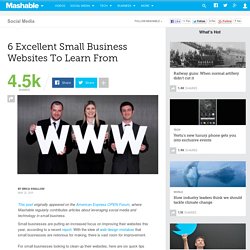 This post originally appeared on the American Express OPEN Forum, where Mashable regularly contributes articles about leveraging social media and technology in small business.
6 Excellent Small Business Websites To Learn From
Trying to navigate the blogosphere and find your own voice? It's easy to have an identity crisis as you work to create the persona of your dreams. I find that blogging isn't that difficult until educated, professional, bright grownups begin to overanalyze things. Most know the basics; hell, we got through high school, college, and years of work.
12 things every business blogger should know how to do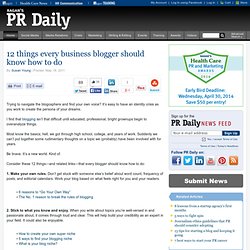 by Vijay Govindarajan | 11:35 AM August 9, 2011 Editor's Note: This post was written with Mark Sebell and Jay Terwilliger, managing partners of Boston-based Creative Realities, Inc. When we ask executives, What is the number one innovation killer at your company?, one of the first words we always hear, always, is "silos!" Recently, one executive even muttered, "fortresses."
The First Two Steps Toward Breaking Down Silos in Your Organization - Vijay Govindarajan
How Brands Should Think About Facebook: a Loyalty Program | Digital
What To Look For In A Company Board
At any company level, the board of directors has a direct impact on the organization's product strategy, hiring, fundraising and much more.
for Social Media
PLEASE READ ALL THE TERMS AND CONDITIONS OF THIS AGREEMENT CAREFULLY. BY CLICKING "Start Now", AND/OR BY USING THIS TOOL, YOU AGREE TO BE BOUND BY THE TERMS AND CONDITIONS OF THIS AGREEMENT, EVEN IF YOU HAVE NOT READ THEM. IT IS IMPORTANT TO READ THIS ENTIRE AGREEMENT.