Cocina
Get flash to fully experience Pearltrees
When I was in High School, I thought garlic knots were the best things on earth. I guess I still kind of think that, but often I'm disappointed by the garlic knots I buy. I'm not sure if the quality of garlic knots has gone down in NYC or if I've become harder to please. These days, they are often hard and dry, probably from being left around too long. As with all bread-based goodies, the freshest way to get it is out of your own oven. These really are a reasonable amount of work, and easily doubled, tripled, or quadrupled for even more return.
I've been intrigued with this frosting recipe for months, not just because of its alluring title, but also because if its ingredients. Five tablespoons of flour?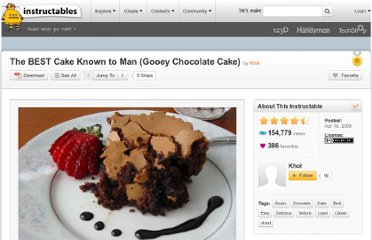 I love to bake cakes, in fact I often find myself daydreaming about cakes during boring lectures and doodling cakes on the margins of my notebooks.
There are two basic methods to test for how done your meat is while you are cooking it – use a meat thermometer, or press on the meat with your finger tips.
Oh, how I LOVE these little cuties!
[donotprint]A few years ago a friend of mine taught me how to make potato chips in a microwave. I thought she was kidding because I couldn't imagine a microwave producing crispy chips. After cooking them for 5 minutes they were done, crispy, and wonderful!
It's that time of year when you're baking A LOT.
April Fools!!! Oh yes, those are meatloaf cupcakes, my friends (with mashed potato frosting)! Who can resist a meatcake?!?
(photo by chris rochelle @ CHOW )
So, Someone gave me a link to This Yesterday, and after reading the comments I decided to try this, but with modifications. I mixed together THROUGHLY: 1/2 tsp.