Educational apps
Grades K-5
Larry Ferlazzo, Teacher
Ohio Resource Center > ORC Document Library
How Students Benefit From Using Social Media 13.56K Views 0 Likes A lot of criticism has been leveled at social media and the effect it has on the way students process and retain information, as well as how distracting it can be. However, social media offers plenty of opportunities for learning and interactivity, and if you take a moment to think about it, it's not too hard to see how students benefit from using social media.
The Wordle of this list! (Click image to enlarge) One of the most popular posts on Edudemic in 2010 was The 35 Best Web 2.0 Classroom Tools Chosen By You and I felt it might be time for an update to that list for 2011. In order to put together a list of the best Web 2.0 classroom tools, I polled my Twitter followers, Facebook fans (are they still called fans?
untitled
untitled
(There are great apps, including apps for SLPs and educators, in today's Featured Free and Discounted List!) We found newly released Disney puzzle app to add to our massive list, along with two Disney trivia apps and two apps with maps for planning a trip to Disney World or Disneyland. Don't miss all of the apps on the list--with these additions, it's now up to SEVENTY NINE (Yes, 79!) FREE Disney apps!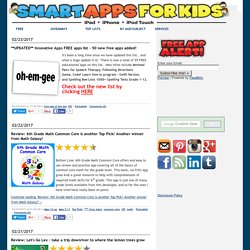 As the web becomes more and more inundated with blogs, videos, tweets, status updates, news, articles, and countless other forms of content, "information overload" is something we all seem to suffer. It is becoming more difficult to weed through all the "stuff" out there and pluck out the best, most share-worthy tidbits of information, especially if your topic is niche. Let's face it, Google definitely has its shortcomings when it comes to content curation and the more it tries to cater to all audiences, the less useful it becomes. The demand for timely, relevant content that is specific to our unique interests and perspectives has given rise to a new generation of tools that aim to help individuals and companies curate content from the web and deliver it in a meaningful way. These new tools range from simple, application-specific types such as social media aggregators and discovery engines, to more complex, full-blown publishing solutions for organizations.
Best content in Polar Science Education