Presentaciones Digitales
Entre una presentación de PowerPoint y un vídeo tenemos la presentación de diapositivas de audio. Para la creación de presentaciones de diapositivas de audio, tenemos algunas maneras en que los estudiantes pueden crear esas presentaciones. Por eso hoy les presento una corta lista con 5 herramientas que nos ayudarán en ese camino. 1.- Narrable 2.- UtellStory 3.- Present.me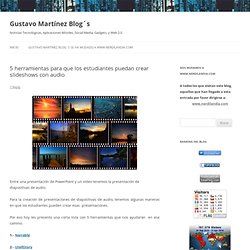 5 herramientas para que los estudiantes puedan crear slideshows con audio
Robin Good: PresentationTube is a downloadable software (for Windows and soon for Mac too) that focuses on helping you open an existing PowerPoint presentation to record over it your video and voice-over. The final output can be saved in a vriety of standard file formats and can be published to PresentationTube or to any other video sharing site. Key additional features include:
Presentaciones Digitales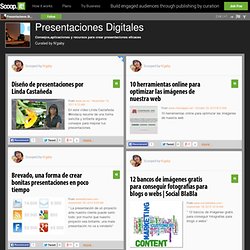 ¿Buscas una foto para un proyecto científico o una foto histórica o simplemente una foto de carácter académico ? ¿No siempre encuentras la imagen perfecta para ilustrar el blog del aula, un libro digital o un poster?. Entonces, agrega esta página a tu marcador. Para tu próximo proyecto de aula, si no encuentras lo que buscas en los conocidos Flickr o Google Images, prueba en buscar en estos bancos de imágenes, dirigidos a profesores y estudiantes y proyectos educativos.
Knovio is a trademark of KnowledgeVision Systems, Inc. All other trademarks and copyrights are property of their respective owners. Whether for business, education or individual use, Knovio adds your personality and improves the effectiveness of any presentation. Create: bring "flat" PowerPoint® slides to life with your webcam, microphone