DATA_VIZ_Carto
THE BIG PICTURE. If every crisis is also an opportunity, then what opportunities are we failing to take advantage of solely on account of our perplexity and our unwillingness to come to terms with the changes happening now?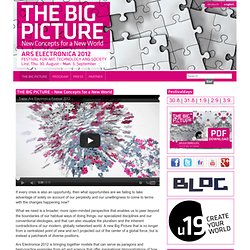 What we need is a broader, more open-minded perspective that enables us to peer beyond the boundaries of our habitual ways of doing things, our specialized disciplines and our conventional ideologies, and that can also visualize the pluralism and the inherent contradictions of our modern, globally networked world. A new Big Picture that is no longer from a centralized point of view and isn't projected out of the center of a global force, but is instead a patchwork of diverse positions.
Ars Electronica 2012 is bringing together models that can serve as paragons and best-practice examples from art and science that offer inspirational demonstrations of how an open-minded way of looking at a larger whole not only reveals more of it but also brings totally new insights to light. The Human Face of Big Data - Home. Diseaster - the social network for trending diseases.
Datatainment : play data ! play ! Par g.cliquet, le 10 février 2008 datatainment, is a portmanteau word combining "data" and (enter) "tainment" which refers to a new way of representing digital data related to the activities of individuals within the information world.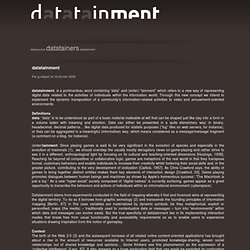 Through this new concept we intend to implement the dynamic transposition of a community's information-related activities to video and amusement-oriented environments. THE BIG PICTURE. Lectures diverses DataJournalism. MetaCarto. Big Innovation Centre | Data lab. Bibliothèques publiques et open data : quels enjeux ? Cet article a été publié il y a 2 ans 10 mois 20 jours, il est donc possible qu'il ne soit plus à jour, ou pas !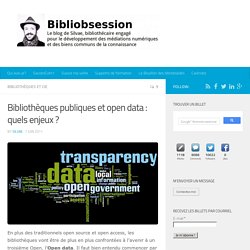 En plus des traditionnels open source et open access, les bibliothèques vont être de plus en plus confrontées à l'avenir à un troisième Open, l'Open data. Il faut bien entendu commencer par des fondamentaux. Rassurez vous je ne vous propose pas de long discours, mais une seule présentation, à consulter avant d'aller plus loin. Entretien avec Simon Rogers, le data-blogueur. Écoutez l'entretien en VF (10min. et 28 sec.)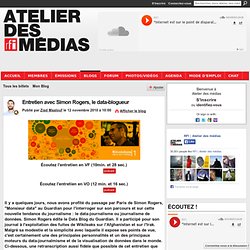 Écoutez l'entretien en VO (12 min. et 16 sec.) Il y a quelques jours, nous avons profité du passage par Paris de Simon Rogers, "Monsieur data" au Guardian pour l'interroger sur son parcours et sur cette nouvelle tendance du journalisme : le data-journalisme ou journalisme de données. DD4D. Nantes - Opendataday. From Opendataday Page d'information sur l'organisation du Hackathon à Nantes Avis à tous les internautes, citoyens, sans compétences informatiques poussées, à tous les développeurs, programmeurs, curieux !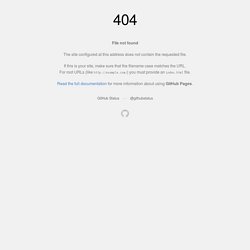 Rejoignez-nous avec votre ordinateur portable et venez nous aider à libérer les données de l'agglomération nantaise ! L'objectif de cette journée: récolter manuellement des données dites publiques mais difficilement accessibles en ligne, afin d'alimenter une plateforme de données locales qui permettra l'accès à tous à ces informations sous format ouvert. Exemples de données à intégrer: liste des élus locaux, emplacement des bureaux de vote, liste des batiments officiels, lieux et horaires d'ouverture des musées, etc. Untitled. Visual Workflow & Background Rendering Software - Official Gridi. GridIron Software is now FileTrek .
Click here to learn more . Monitor Your Sensitive Data FileTrek's Worklog Data Collectors capture and analyze your unstructured data in motion.
---