Recherche template & logo
Free Website Templates - Design Company Photoshop and HTML Templ
Free Logo Templates - Logo Design
Basic Tutorials Here are some general video tutorials showing what can be done using FlashEff 2.0 and how to do it. To start, click on one of the following links. You only need a few minutes to start using FlashEff 2.0 like a pro.
Flasheff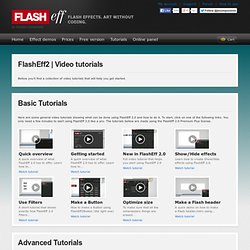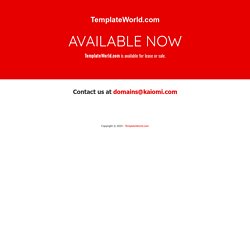 A great option to explore for your new website design is that of website templates. TemplateWorld offers an exceptional, diverse library of web template layouts suited to providing a professional experience for any market niche. Different, cost effective plans are available for the personal user with a small scale project or the developer that would need more expansive access to accommodate their business needs. Dreamweaver Templates Golive Templates Frontpage Templates CSS Templates Dynamic jQuery Templates Expression Templates WordPress Themes OsCommerce Templates And much, much more! TemplateWorld provides a wide variety of professionally developed templates to enable your unique website launch without a major investment. Our designers hone each graphic design template, logo template, printing template, and word template to provide the kind of professional image our customers demand.
Website Templates / Web Templates / Web 2.0 Templates (Dreamweav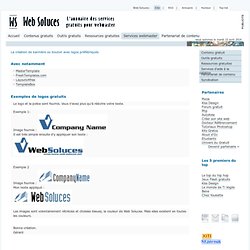 Créer gratuitement sa banniere ou son logo - CREATION GRATUITE D
Avec notamment - MasterTemplate - FreshTemplates.com - Layouts4free - TemplateBox Exemples de logos gratuits Le logo et la police sont fournis. Vous n'avez plus qu'à réécrire votre texte. Exemple 1: Image fournie :
Si comme moi, vous n'arrivez pas à obtenir de résultat satisfaisant en voulant créer votre logo, bouton, bannière. Si comme moi, vous ne souhaitez pas sous-traiter cette action. Si comme moi, vous n'avez pas envie de débourser un sou.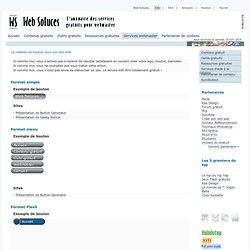 Créer gratuitement son bouton, simple pour menu ou rss
Créer gratuitement son bouton avec une gestion de rollover
Free Web Button Maker - ButtonGenerator.com