Colour
Artima Color SchemerChoose A Color Scheme for Your Web Pageby Bill Venners The Artima Color Schemer applet, included below, allows you to try out different web page color schemes, using various combinations of the browser-safe colors: Colors for Web Pages HTML lets you specify up to five colors for various components of page: BGCOLOR defines the background color of the web page. TEXT defines the color of regular text on the web page. LINK defines the color of unvisited links.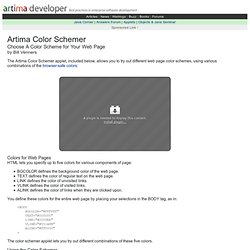 Color Schemer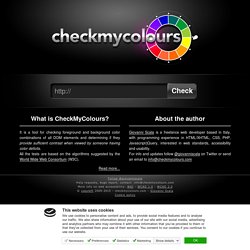 It is a tool for checking foreground and background color combinations of all DOM elements and determining if they provide sufficient contrast when viewed by someone having color deficits. All the tests are based on the algorithms suggested by the World Wide Web Consortium (W3C). Read more...
HTML Color Scheme Tool: Over 1000 colors! 11 color charts!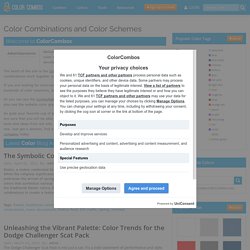 Welcome to ColorCombos Advertisements Welcome to the world of colors where you're sure to find the perfect color combination for your project. This site was built to help web developers quickly select and test web design colour combinations.