Mind Mapping
List of concept- and mind-mapping software. Concept-mapping and mind-mapping software are used to create diagrams of relationships between concepts, ideas or other pieces of information.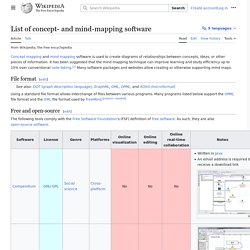 It has been suggested that the mind mapping technique can improve learning/study efficiency up to 15% over conventional note taking.[1] File format[edit] Official Mind Mapping software by Tony Buzan. XMind - Mind Mapping and Storming. Mind Mapping - mindmapping.com. Main Page. Mind Mapping Software – Productivity, Planning, Learning, Communication.
The Mind Mapping Software Blog.
---